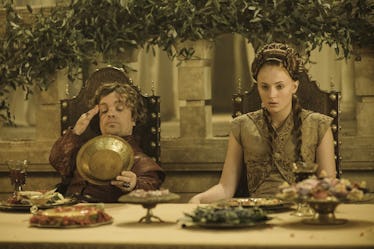 Sophie Turner Says 'Game Of Thrones' Taught Her "Sex Education" & I'm Cringing With Her
HBO
Game of Thrones has always had a reputation for sex and violence. From the very first episode, there was bloodshed when there wasn't a couple having fun in bed. One of the show's main protagonists, Tyrion Lannister, is introduced in bed in Wintertown's finest brothel. But Game of Thrones also a show with a young cast, many of whom didn't know much about sex when they filmed the pilot. Many learned from watching the series. Sophie Turner says Game Of Thrones was her "Sex Education," which is probably the most awkward thing one can say about the show that made them famous.
It didn't help the early seasons were the most sex filled. Season 1, for instance, introduced the concept of "sexposition" into the lexicon. This was where the showrunners David Benioff and Dan Weiss decided the best way to jazz up what might be seen as "boring plot exposition" by having those plot points discussed while characters were having sex on screen.
According to Variety, Turner learned about sex from reading the script.
I'd be doing a read-through and we'd be talking about very graphic stuff. The first time I ever found out about oral sex was from reading the script. I was like … 'Wow! People do that? That's fascinating!'
For Turner's on-screen sister, Maisie Williams, it was even worse. Turner was 14 or 15 when the show premiered, Maisie was 13. Worse, she watched the show every week with her family, including her grandmother. Talk about awkward.
Speaking to The Australian recently, Williams revealed her mother didn't really shield her from the gore or the sex, figuring it would pique Williams' curiosity more if she thought they were hiding something from her.
The sex was just quite ­embarrassing and awkward for us. Most of the gory stuff I was part of, and it's not scary when you're there shooting it. No one's really getting their face ripped off. So it's quite exciting really.
As for how Granny handled it? "Bless her, my mum just plies her with more and more gin."
As for what's going down in Game of Thrones Season 8, Williams will only say "I think people are gonna like it," and smile evilly. Her real focus is what comes after it. Her latest project is Daisie, a "social media app for creatives" she hopes "will give writers, artists, entrepreneurs and the like a chance to get their work seen."
I've been thinking a lot lately about before the show and how normal it was, and how I'm going to have a normal — well, maybe not completely normal — but I'm going to have a life after the show…I look back to the harder times we had and how much my mum struggled being a single mother with four kids — just thinking about how different my life could have been, and how lucky I am in that I've been able to provide for my family … It's an amazing thing.
Game of Thrones will mosey on over to HBO for the final season sometime in the first half of 2019.