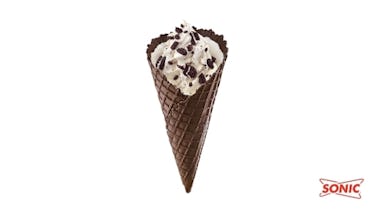 Sonic's Newest Ice Cream Cone Is An Oreo-Lover's Dream, But You Have To Act Fast
Alright, there's something that I need to get off my chest. I'm letting you all know — with a heavy heart — that I really haven't too many experiences at Sonic, aside from one time during college spring break. Yes, it's true... feel free to send me any and all of your thoughts and prayers. Anyway, the fast food chain recently introduced a new frozen treat, and I absolutely need it in my life. If you haven't heard about Sonic's new Double Stuf OREO Waffle Cone, it's totally amping up their dessert game. TBH, I've never wanted something so badly, and it looks like a mandatory road trip is in order.
Recently, Sonic was inspired by Oreos to create their latest and greatest innovation, the new Double Stuf OREO Waffle Cone. According to the press release, it consists of a super rich, chocolate cookie waffle cone, which is coated with decadent Oreo Creme on the inside. It's layered with SONIC's signature Real Ice Cream, and topped off with yet another layer of Oreo Creme. Oh, and obviously, it's sprinkled with crumbled Oreo pieces, but I'm sure you already knew that. Also, if the thought of a cone somehow doesn't tickle your fancy, customers can make it a Double Stuf Oreo Blast instead, which essentially blends the ingredients into a Blizzard. Honestly, I really need to get my hands on one of these babies while it's still summer.
Unfortunately, though, the new Double Stuf OREO Waffle Cone might not even be around until the tail end of summer. Yes, you heard that correctly, and I'm honestly too devastated to say it out loud. This gorgeous creation is only around for a limited time while supplies last, according to a press release, so get 'em while they're hot (er... cold?). On the bright side, though, these glorious gifts from above are going for a pretty low price, starting at $2.49. So, pro tip? Stock up on a lifetime's supply of them while you can. Just buy a new freezer, and live off of them for the next 30 years. That's realistic, no?
In a press release, Scott Uehlein, the Vice President of Product Innovation and Development for SONIC, said that Oreos are super popular, so why not deconstruct the essential Oreo flavors into a magical frozen treat? This is literally made for any and all sweet-toothed ice cream fans, and I'm already obsessed.
In the press release, Uehlein said:
Everyone loves OREO cookies – they are such an iconic cookie with adoring fans – and deconstructing their classic flavor into something wholly new was a delight. Innovating all of the delicious elements that make the Double Stuf OREO gave our team the opportunity to deliver an entirely new way to experience the crunchy, smooth, sweet treat we're all obsessed with.
Very few things in this lifetime can surpass the delectable combination that is ice cream and Oreos, and it's no surprise that the ever-elusive Sonic jumped aboard the Double Stuf Oreo Waffle Cone train. The craving is real, and I'm super determined to snag one of these if it's the last thing I do.