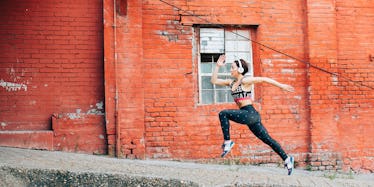 This Is The Song You Need On Your Workout Playlist, According To Your Zodiac Sign
You know that feeling when you hop on the treadmill and are so in the zone for a good cardio sesh, but then you realize you forgot your f*cking headphones? Honestly, I think I would rather lay in a bed of porcupines than run without music — who's with me? Having a playlist of kickass songs to work out to can often make or break your entire sweat sesh. And we're about to amp it up a notch by matching your favorite music with your zodiac sign.
Astrology can determine everything from your core characteristics, to the optimal workout for your bod, to what jams will motivate you most. While a Scorpio would thrive while sweating it out to a good throwback, Taurus needs the most current pop songs topping the charts to keep her moving.
So, if you're bored AF with the same playlist you've been using for your HIIT circuits for months now, it might be time to turn to the stars for some brand new motivational music.
Here are a few song suggestions for each zodiac sign that'll perfectly complement your next workout. When you think you literally can't do one more burpee, blast your sign's song and slay a few more sets. You got this, girl.