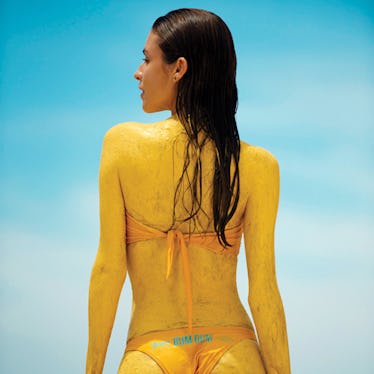 This Full-Body Mask Will Score You A Celeb-Level Glow For Spring Break & It's Only $25
Glowy skin shouldn't just stop at your neck. Yes, we invest serious cash in illuminators for our faces, but we're blatantly ignoring the rest of our dry, scaly, and thirsty AF skin. If you want to be literally lit from head to toe this spring break, Sol De Janeiro's Brazilian Bod Buff will fulfill all your wildest dreams. Did I mention it's a full-on body mask and scrub in-one, and it only costs 25 bucks?
People are just now starting to understand the importance of skincare, specifically exfoliation. Exfoliating removes dead skin cells and reveals the fresh baby skin cells underneath. This means, if you're feeling grey and dull, you can simply scrub your way to looking like a golden goddess. Of course, the dead skin would slough off eventually, but gentle exfoliators give a little boost to unglue the stubborn dull cells and reveal a smooth, light-reflecting surface.
I've been exfoliating my skin daily for the past three years. However, I only started exfoliating my body bi-weekly in the past year. Every time I go to buff away my scaly skin, it's exceedingly gross in the best way. As I scrub my troubles away, the water rinses grey, thanks to the copious amounts of skin cells that I'm shedding off my body. I'm like a caterpillar shedding my cocoon, transforming into a beautiful Beyoncé-esque butterfly.
Speaking of the all-powerful and inhumanly gorgeous Bey, it was Queen B's personal makeup artist Sir John that revealed the product that he relies on to transform the skin of celebs and himself alike.
Sol de Janerio Brazilian Bod Buff, $25, Sephora
What's the new product, you might ask (or might be screaming hysterically into your computer screen)? Why, it's the new Sol de Janerio Brazilian Bod Buff of course, which the storied beauty pro touted on his Insta page.
"I went through a ton of this product on my girls... It's my secret to giving them that Oscar-worthy skin."
Sol de Janerio Brazilian Bod Buff, $25, Sephora
So this extra special exfoliating scrub has a hidden super power: it also acts like a mask for your body. Simply apply the Brazilian Bod Buff all over, then let it dry down for a few minutes. The mask will purify, detoxify, and smooth the skin, fostering glowing and glam results. Then, add water, and the mask will transform into a scrub that polishes away dead skin. If you don't have enough time to mask on the daily, you can just use the Brazilian Bod Buff as a scrub from the jump. Just squirt onto wet skin, buff on in little circular motions to remove rough spots, rinse off, and go about your busy day.
Two main ingredients provide the major exfoliating power: First, crushed Brazilian Quartz acts as the physical exfoliating agent to manually resurface. In true Sol de Janiero fashion, this ingredient is indigenous to Brazil. Secondly, count on the Amazonian clay to deeply purify skin.
Of course, the effects and benefits are worth the $25 price tag alone, but the scent itself is also to die for. Have you ever used a Sol de Janerio product before? Many are scented with the signature sweet smell of salted caramel and pistachios. Seriously, it is intoxicating. I have a tub of Sol de Janeiro Brazilian Bum Bum Cream that I save for date nights and special occasions. It's ridiculously irresistible. I just want to live inside a bottle of delicious Sol de Janerio Brazilian Bod Buff so I can smell the delicious fragrance all day.
Now that this red carpet secret is out of the bag, you can snag it on the Sephora website. Trust me, it's like an at-home spa treatment to get you hyped and ready for spring break — and who doesn't want that?
Sol de Janerio Brazilian Bod Buff, $25, Sephora | Sol de Janeiro Brazilian Bum Bum Cream, $45, Sephora