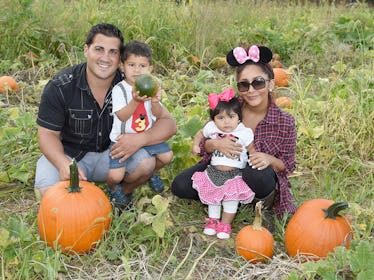 Snooki Is Pregnant With Her Third Child, So Get Ready For Another Meatball
Jamie McCarthy/Getty Images Entertainment/Getty Images
On Thanksgiving, Nicole "Snooki" Polizzi surprised her Instagram followers when she made an exciting announcement. A post captioned "What I'm thankful for this Thanksgiving" revealed that Snooki is pregnant with her third child, meaning her two current children Giovanna (age 4) and Lorenzo (age 6) are about to get a baby sibling!
Her Instagram post features a slideshow of her two children holding and posing with a framed photo of a sonogram, serving as an announcement of the Jersey Shore star's pregnancy. In an interview with ET back in August, Snooki revealed that she and husband Jionni LaValle were trying to have a third child. She told ET: "I'm trying now, I'm practicing now. It's going good. I'm not pregnant yet but, I mean, we've been practicing for a month now, so…"
In another interview with Us Weekly, Snooki got even more candid about her efforts and frustrations:
We get our wine, we order pizza and then we go into our spare room. We stay up till 3 o'clock in the morning just watching Netflix and getting drunk and trying to have a baby ... I don't know what's wrong. Maybe I'm stressed or I'm just working [too much]. My schedule's hectic.
Looks like their late-night Netflix and Pizza "dates" worked, and the celebrity finally has another meatball in the oven!
Snooki, who gained fame and notoriety during her time on MTV reality TV shows such as Is She Really Going Out With Him? and Jersey Shore, told Bustle in 2016 that even though the first iteration of Jersey Shore was as fun as it looked, she was happily readjusting to motherhood and all the demands that come with it. She said:
The hardest part of motherhood is no sleep, toddlers running your life, and getting hit in the face 24/7. The easiest part of motherhood is the love you share with your kids because the hugs can be endless!
Based on their Instagram feeds, it's clear Snooki and her husband are obsessed with their kids. Snooki and her kids dressed up in family superhero costumes on Halloween this year and Snooki captioned a photo of them "My squad is killing the game. #myheroes." LaValle also frequently posts photos of the kids on holidays, at school, playing sports, and hanging out as a family.
Snooki isn't the only former Jersey Shore star with an announcement about her children this week. Jennifer Lynn Farley, known as JWoww, revealed to Hollywood Life on Wednesday that her son Greyson Mathews was diagnosed with autism, a diagnosis she sought after noticing her 2-year-old's speech delay. She told Hollywood Life: "He has co-therapies [every] week but we're going to step it up a notch soon and get him ABA treatments, speech therapy." She assured E! and her fans that Greyson is still living "his best life."
JWoww and Snooki, best friends in real life, talked to E! News last year about how motherhood has impacted them positively and how they went from Reality TV stars to mothers together.
Congrats to Snooki on the best holiday present ever!