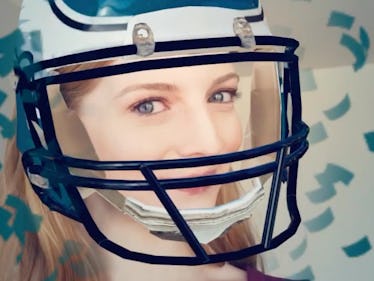 Snapchat's Super Bowl Features Will Make You Feel Like You're Part Of The Game
Snapchat
Over the years, despite my lack of interest in the sluggish sport of football, watching the Super Bowl has become a mandatory past time, I guess. But with a plethora of food, funny commercials, and a baller halftime show, it really isn't that bad. Whether you're into the game or not, documenting your Super Bowl experience is much needed — because as they say, "If you didn't Snapchat it, did you really watch it?" So, to accentuate all of your game day pics, Snapchat's Super Bowl Filters and Face Lenses will definitely get even the least sporty viewers super psyched.
In honor of Super Bowl LII, your favorite photo-messaging app has officially partnered with the NFL in order to bring us a selection of awesome game day Snapping accessories. The festive Face Lenses will make you feel incredibly ~sporty~ as you get the opportunity to try on helmets supporting either team in the game (definitely not saying I'm a Patriots fan, but shotty being Gronk). So whether you decide to come out on top as the winning rookie of the Philly Eagles, or if you choose to deflate some footballs as a New England Patriot, you can helmet up on Snapchat, and support either side during the game on Feb. 4. These accessories will be available to fans nationwide, and even to a select few countries worldwide.
In terms of cool Lenses, per a release sent to Elite Daily, Snapchat will be debuting a scoreboard Lens to keep track of points made during the game... and the best part is that it'll actually keep up in real time. So if you're too busy sending cute selfies and food porn to your friends, you won't have to annoy everyone by asking for the score, for literally the hundredth time in a row (I'm really just talking about myself here). So thank the football Snapchat gods, because they totally have your back.
Snapchat is also coming in clutch with a selection of fun Super Bowl-inspired 3-D Bitmoji Lenses. I, myself, have never wanted to take a stab at playing football, but the 3-D Bitmoji feature actually makes Snapchatters' Bitmojis play the game. So whether you're pro at playing halfback, quarterback, or even a nothing-back (me again), you can transport your little digitized self all the way to Minneapolis, and show off your gnarly skills (or, lack thereof).
The option to post to an official Super Bowl story will make you feel so connected with other football fans around the world (as well as nacho and pizza fans eating their little hearts out). According to Snapchat's press release, there's going to be seven NFL-partnered "Our Story" options, which will become available starting the week leading up to the big game, starting on Feb. 2. There will be two Our Stories hyping up the game, and three Our Stories covering the actual game. There will also be coverage of the aftermath on Feb. 5, the Super Bowl parade, and eight NFL Publisher Stories, which will lead up to and follow the game. Again, each of these will be available to Snapchatters throughout the U.S., and even to a select few countries worldwide.
So, whether or not you thoroughly enjoy football, or if you honestly just like Snapchatting and pretending to like football, Snapchat's NFL partnership is really coming through to get all of us hyped for the game. Whether you're more of a selfie kinda person, or a Bitmoji 3-D fan, there are so many options to place you right in the middle of the football game, and each option is honestly just too fun.
Check out the entire Gen Why series and other videos on Facebook and the Bustle app across Apple TV, Roku, and Amazon Fire TV.