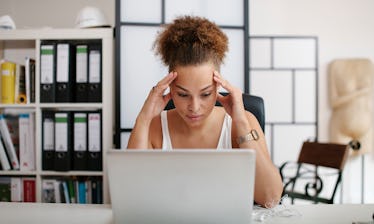 Slack Is Currently Down & The Company's Response Will Calm Your Nerves
Few things can interrupt my morning work flow quite like Slack being down, and the Twitterverse couldn't keep its cool when the app started experiencing connectivity issues on June 27, 2018. Take a deep breath, because they're working on it, and Slack's response to being down will calm your nerves.
On Wednesday morning, employees everywhere experienced a moment of mass panic when they discovered that Slack is not working, and that there's nothing they can do about it. After realizing that they now have to actually talk to their coworkers (you know, in real life), quite a few people took to the Twitterverse to air their feelings of frustration and confusion. Now, Slack is stepping in on Twitter, and it's the voice of reassurance that I needed during this trying time. That's right: The company took to the social media platform to share updates with everyone who is freaking out. While Slack is still down for some users, they're apparently working hard on fixing the problem, and their updates will make you feel so much better about the whole situation.
"We're investigating connectivity issues for all workspaces, thanks for your patience, we'll have updates shortly," the first message, timestamped at 6:33 a.m. PT, reads. In their tweet, Slack also linked to a blog post where they elaborated that "all workplaces" are affected (aka everyone is down on Slack).
"We've received word that all workspaces are having troubles connecting to Slack," the post continued. "We're currently investigating the issue, and will have updates shortly."
At the time of publication, Slack had issued a couple different updates, and honestly, the many timestamped messages and updates in 30-minute intervals are strangely reassuring. "Our team is still looking into the cause of the connectivity issues, and we'll continue to update you on our progress," they tweeted at 7:03 a.m. PT.
Just 30 minutes later, Slack seemed hopeful when they revealed that they were finally working on fixing the problem, while a message shared at 8:03 a.m. PT revealed that they had "no new information," and were "still in rocky waters." Yikes.
With hours of zero Slack access and counting, the Twitterverse was predictably on complete meltdown.
Considering that Slack has 8 million active users as of May 2018, according to TechCrunch, it's literally an outage felt around the world. There are countless employees who don't know what to do with themselves during the Slack blackout, except try to keep calm by sharing all the memes on Twitter. Because who can get work done when Slack is down, right?
While a few Twitter users tried to make light of the situation and embraced the morning break as a chance to catch the World Cup game or grab a cup of coffee, it seemed like everyone else was stressing out about their worst fear in the workplace: real human interaction.
It really makes me wonder: How did you communicate with your coworkers in the days before Slack existed? And, most importantly, how can you even tell everyone that Slack is down without Slack?
In light of the Slack outage, people are re-discovering their rusty social skills and trying to make the best of a very trying situation. Is miming GIFs IRL a thing?
Honestly, at this point, should we all be packing up our things, leaving the office, and calling it a day?
All bets are off when Slack is slackin', and with no ETA of a total fix in sight, now seems like a better time than most to whip out that "OOO" and save those GIFs for another day.