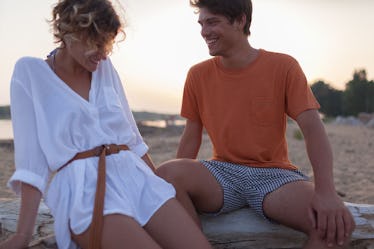 Telling Your SO You Have A Crush On Someone Else Is Tricky, But Here's How To Confess
Tell me if this sounds familiar: You're in a relationship, but you meet someone new — maybe it's through a friend, online, or at work — and you feel a little jolt of attraction toward them. No big deal, but then, before you know it, you've developed a full-on crush and you're feeling increasingly guilty about it. What are you supposed to do with those feelings? Should you tell your partner if you have a crush, or is it the kind of thing you're better off keeping to yourself?
Knowing whether or not to disclose your feelings can be pretty tricky. Turns out, having crushes on other people while you're in a relationship is actually really common, as relationship coach Brenda Della Casa tells Elite Daily. "The idea that we stop finding other people attractive as soon as we fall in love or commit to someone is ridiculous. It's unrealistic to assume your partner will never find someone else sexy or charming, but that doesn't mean they no longer feel those things about you or want to leave you," she says. As for whether or not you should tell your partner how you're feeling, that's where things get a little more complicated.