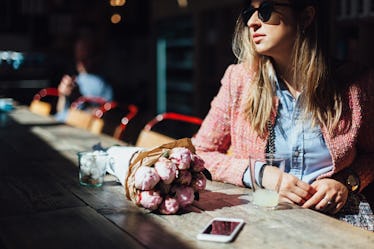 Here's The Truth About Whether You Should Try To Show Up First Or Second To A Date
Alvy, Annie, and a game of tennis doubles in Annie Hall. Leo, Claire, and a fish tank in Romeo + Juliet. "Just Judy," Bilbo Baggins, and an on-set breast grab in Love Actually. What do these trios have in common? They are all serendipitous, albeit fictional, meet-cutes. I'm always hungry for a cheesy meet-cute, and who isn't? Maybe because a meet-cute means no first date nerves such as: What if I have a poppy seed in my teeth, or, what if I'm there too early? When to show up to a first date is a small but nerve-wracking moment.
Do I show up five minutes late? Sure, but what if my date is really into punctuality? Immediate ding on me. OK, so maybe I text him that I'm running five behind but still show up five minutes late so that I don't have to awkwardly wait alone at the bar? While polite, what happens if I can't find him at the bar and end up tapping a stranger on the shoulder?! (Spoiler alert: Nothing/texting exists/you will find each other.)
Well, what if I arrive early and let him arrive second? Does that make me seem too eager? (Spoiler #2: No, because eff the patriarchy.) What if he arrives and I'm chatting with someone at the bar? Or, what if he arrives and sees my weird zit and turns around immediately? HELLO, MY NAME IS KIMMY AND I AM INCREDIBLY OVERTHINKY AND ANXIOUS! In reality, it does not matter who shows up first to a first date, right? To confirm, I spoke to dating expert Julie Spira. Here's what she had to say:
First, Let's Get Real About Arriving On A Date
‌ DiscoverNext UpWhy You Shouldn't Drink Before A Date00:0001:4801:4801:48 Why You Shouldn't Google Someone Before A Date Here's why you should never Google someone before a date… Artist,Aspiration,Brooklyn,Date,Elite Daily,Flirting,Gen-Y,Generation Y,Millennial,Original,Secret,Sketch,This Is Why We're Single,attraction,boyfriend,brunch,comedy,elite,generation,girlfriend,hipster,horizontal,inspiration,men,series,social media,stalking,women ‌
One, it's just a date. Two, you and your date are not going to arrive at the exact same time. If you do, double check that you are not acting in a rom-com. "Showing up on a date at exactly the same time hardly ever happens," says Spira. "Someone is going to be there first and hopefully the second will arrive shortly thereafter." The key word being "shortly."
Waiting To Show Up Will Only Make You More Nervous
‌ DiscoverNext UpOne Body Hack Will Reduce Your Anxiety00:0001:1101:1101:11 One Body Hack That Will Reduce Your Anxiety Don't let anxiety get you down. Here's one easy body hack that will help. Bustle,Original,adulting,body hack,breathing exercise,dealing with anxiety,horizontal,how to reduce anxiety,issues with anxiety,meditation,mental health,self care,women's health ‌
As a (clearly) nervous human who lives in New York, I love walking to dates if I have the time (and if the weather is not frigid) so that I can chill the f*ck out. If I wait around the block to make sure I'm second to arrive to a date, my anxiety just gets extra time to creep on in.
"I don't believe it matters who shows up first, although women are known to sit in their cars to not appear over-excited about the date, to show up second," says Spira. "To me, that causes more anxiety." Whether you date women or men, your date will be flattered that you were so eager to meet them that you arrived on time. Which brings me to...
No Matter What, Show Up On Time
‌ DiscoverNext UpWhy People Who Have More Sex Are Healthier00:0004:5704:5704:57 What Makes People Swipe Right? Tinder, OKCupid, all these dating apps: how do you get people to swipe right? We figure out how to play the dating numbers game. Bustle,Date,Dating,Factaully,Health,Love,Love Factually,Original,Relationships,Romance,Tinder,apps,dating apps,dating numbers game,decision,horizontal,left,okcupid,online,online dating,right,science,sex,swipe,swiping right ‌
Even if punctuality isn't particularly important to you, it's polite. Additionally, there are certain people for whom a late arrival is a pet peeve. "The only important issue is arriving on time," says Spira. "Traffic can be rough, so if you're running late, make sure you text your date to let them know you're on your way with your ETA."
I used to show up a little bit late to dates intentionally to seem "cool." If I could go back in time, I would nope myself on that decision every time. Seeming "cool" in any realm of dating is completing overrated. Plus, imagine giving your soulmate a bad first impression just so that you seemed "cool." Not worth it.
It Really Doesn't Matter If You Show Up First Or Second
‌ DiscoverNext UpSingle Girl's Guide To Ditching A Bad Date00:0001:0201:0201:02 The Girl's Guide To Casual Dating Whether you love it or hate it, the world of dating is something that most of us will have to deal with at one point or another. In this episode of The Single Girl's Guide series, our protagonist shows just how simple casual dating can be. Dating,Elite Daily,Girls,Health,Millennial,Plan B,Teva,birth control,branded,branded content,content,contraception,girl's guide,horizontal ‌
Truly, it doesn't matter who shows up first on a date, as long as you do your best to be on time. "If you show up first, send a text to your date saying you're there, in the likelihood they're sitting in their car or standing on a corner, so they'll know the coast is clear to arrive early as well," says Spira. Easy! Then you both know you are there, and can even communicate where you are waiting, such as, "I'm by the pool table."
"If you show up second, show up with a smile and give your date a quick hug to show you're happy to be at their side," says Spira. "Showing up second backfires only if you're late and aren't courteous enough to let your date know."
At the end of the day, nerves before a date are part of the excitement, so try to enjoy them. If you get caught up in little details like "When should I get there?" or "Are these the right earrings?" it's going to be really tricky to relax and be yourself. If you can't seem to chill out before first dates? Go on a whole lot of them. I am currently in the middle of going on 51 first dates (well, I'm on number nine). From here on out, I'm doing my best to arrive on time.
Check out the entire Gen Why series and other videos on Facebook and the Bustle app across Apple TV, Roku, and Amazon Fire TV.
Check out the "Best of Elite Daily" stream in the Bustle App for more stories just like this!