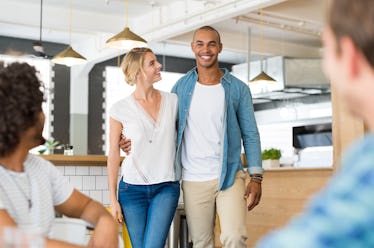 Here's Why The Experts Say You Shouldn't Introduce Your FWB To The Family
Going home for any reason might often come hand-in-hand with a very specific, often annoying, question. You know the one: "Are you seeing anyone? Is there someone special?" But what if your "someone special" isn't your partner, but rather, more of a friend with benefits? Is it ever a good idea to make them your plus one? Should you introduce your FWB to your family, or is that just asking for things to get complicated?
To get to the bottom of this question, I reached out to experts for their take on if and when you should consider introducing someone you're keeping it casual with to your family. For the most part, the experts all agreed that you're better off keeping your FWB to yourself, but, in some rare cases, they say it's OK to bring them home. "It depends on the word 'friend' in friends with benefits," Dr. Nikki Goldstein, sexologist and relationship expert, tells Elite Daily. "Was there a friendship before it became sexual or is this someone you are just friendly with and sleep with?" she asks, and adds that it can also depend on how much time you've known your FWB.
"If they are someone who has been in your life for some time or who you plan on keeping around, then there might be times when there is an event and you want to bring a plus one, a birthday and you want them there." But what if this person is someone you've recently started seeing, or you aren't sure about where the friendship is going? In that case, the experts say it's probably not a good idea to introduce them to your family. Here are the reasons why.