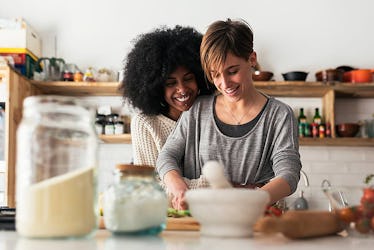 Should You Get Married If You Haven't Lived Together First? Here's What An Expert Says 
Living with someone before you got married used to be really taboo. Judgy people all up in your business would call it "shacking up" or "living in sin." (Super heteronormative, just sayin'.) Fortunately, that's not really the case anymore. Unmarried people living together hardly raises eyebrows, so you're free to live your truth with little judgment. However, just because it's socially acceptable, does that automatically mean it's a good idea for the relationship long term? And if you want to get married someday, should you get married if you haven't lived together?
I've always believed the best policy is to live with someone even before you consider marriage, because before taking that step, you need to ensure that you're even compatible. So, it was really surprising to learn that living together, and how it affects your relationship, is actually a lot more complicated than that. In fact, in looking at studies, it seems that living together could actually have a negative impact on the long-term success of your relationship. What? But these studies aren't definitive, so rather than panicking and packing all my things to save my relationship from an untimely cohabitation-related demise, I reached out to online dating expert Julie Spira, who had some really helpful insights on when to move in, and why it matters. Here's what she had to say.