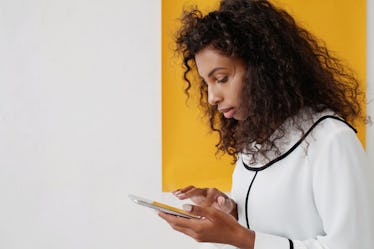 Here's Why Experts Say You Should Delete Your Ex's Number After A Breakup
Deleting your ex's number from your phone can be really hard to do. There's just something that feels so final about it. It's sort of like once you hit delete, you're basically admitting that it's over for good. Needless to say, taking that step can sometimes be a lot harder than you might expect. But why should you delete your ex's number after a breakup, anyway? If it's so hard, why do people do it? Well, while erasing an ex's contact can be painful, I've always been a firm believer that when the relationship is truly over (and you've gotten all your stuff back), it's time to clean house — contact list-wise. There's just something cathartic about hitting delete on an ex's number. In some cases, it's the only real closure you can hope to get, so I say: Embrace it!
Truth be told, I can be a bit cut and dry when it comes to breakups, so I reached out to the experts to get their takes. Turns out they agree, because saying goodbye to their phone number is an important step in saying goodbye to your ex and moving forward with your life post-breakup — in part because it's a symbolic gesture of closing the door to the past, but also because it makes it just that much harder to drunk dial them later in a moment of weakness. No judgment, we've all been there! Here's how the experts say to handle this bittersweet situation.