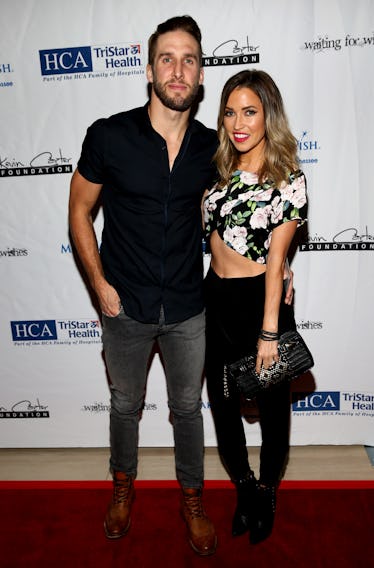 Shawn Booth Has Finally Opened Up About His Breakup With Kaitlyn Bristowe, & I'm Crying
Terry Wyatt/Getty Images Entertainment/Getty Images
It's been a rough month for fans of Bachelor Nation. One of the franchise's most popular couples, Shawn Booth and Kaitlyn Bristowe (aka, The Boothstowe's) officially ended their relationship after three years, and ugh, I'm heartbroken. This week, Shawn Booth's quotes about his breakup with Kaitlyn Bristowe are adding even more salt to my tears. In the mere ten days since the couple shared a joint statement announcing their split to People magazine, Booth has been noticeably absent from social media, so his new post about the split definitely stands out.
"I just want to thank everyone who has been so supportive of my relationship with Kaitlyn over the years," Booth wrote on Instagram, alongside a photo of the couple posing for photos in Times Square. "You've made me feel incredibly special, supported, and very loved. So from the bottom of my heart, thank you. It truly means a lot. And thank you to everyone who has sent their love & support during this painful time. I love you guys."
It seems like Booth is visibly sad about his breakup with Bristowe, but is taking it in stride. The two were together for three years, and had a very public relationship. Now that he's updated fans into how he's doing, Bachelor Nation can at least take comfort in the fact that their support has really helped Booth during this time.
On Nov. 2, Booth and Bristowe announced their split, releasing a joint statement to People, saying:
After three incredible years, we have decided to go our separate ways. This difficult decision comes after thoughtful, respectful consideration. Even though we are parting as a couple, we're very much committed to remaining friends. We have both evolved as people, which is taking us in different directions, but with the hope that we will continue to support each other in new ways. Due to the nature of how we met, our relationship has always been very public, and we have enjoyed sharing it with all of you, but we ask that you respect our decision and our privacy at this time.
Booth proposed to Bristowe on the season 11 finale of The Bachelorette back in 2015 and had previously joked about how long their engagement was.
Speaking to Us Weekly in June, Bristowe explained that they weren't in any rush to tie the knot. "I feel like we are going backwards!" she said. "I feel like we've talked about him re-proposing because sometimes I don't even want to wear a ring anymore cause I want him to have it just so he can surprise me." This statement takes on a whole new meaning now that the two have ended things, and it's just super sad.
Hopefully, Booth and Bristowe can now take the time they need to heal and move on from their relationship. Three years is a long time, and breakups are never really all that easy. But Booth opening up about how this breakup has impacted him proves that it's OK to feel all the feels, and take your time mourning a relationship.