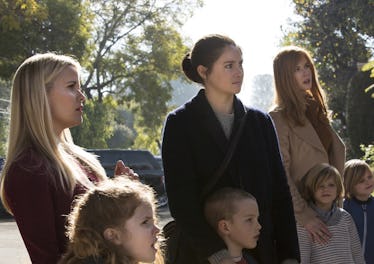 Shailene Woodley Just Revealed She Almost Quit Acting Before 'Big Little Lies' & Here's Why
Hilary Bronwyn Gayle/HBO
I don't know about you, but ever since Big Little Lies Season 2 was announced, I've been eagerly keeping up with the show's stars (if you don't follow Reese Witherspoon on Instagram, you need to get on it ASAP). Of all the show's actors, I'm most obsessed with Shailene Woodley, the young star who held her own in a group of more experienced, award-winning actresses. But as it turns out, the 26-year-old actress almost didn't appear in the HBO mini-series-turned-drama, because Shailene Woodley almost quit acting before Big Little Lies. I'll give you a minute to pick your jaw up off the floor.
All good now? I know, I was surprised too — I practically did a spit take when I read the headline. Woodley revealed the shocking secret to Net-a-Porter's magazine, PorterEdit, and after I got over my initial surprise, I realized that her reasoning actually makes total sense. The Emmy- and Golden Globe-nominated star almost quit acting for a pretty normal reason: She wanted to have some normal human experiences outside of Hollywood.
Sure, we all like to pretend that our lives are like Witherspoon's and Woodley's and Nicole Kidman's, but at the end of the day —and no matter how hard stars try to convince us that they're ~just regular people~ on Instagram — their lives are nothing like ours. After years of being in the industry, Woodley just wanted to be a regular person for a little. Can you really blame her?
Woodley told PorterEdit that after appearing in the Divergent series, she felt a little lost. While Woodley insisted that she "wouldn't change [the films] for the world," she said:
The last one was a bit of a hard experience for everyone, and that was really what made me think I need to have some human experiences outside of this industry and fall in love with acting again, and Big Little Lies did that for me.
I think that, as a female-led show about female-centric problems, Big Little Lies meant a lot of things to a lot of people, so it's nice to know that the show had an impact on Woodley as well.
But before Big Little Lies helped Woodley fall in love with acting again, the star had to first take some time to herself. She explained:
There was a point in my life, right before Big Little Lies, where I had hit a wall with acting. I felt it was time to do something different. I called my agents and said, 'Please don't send me any more scripts; I need to explore other avenues.' They respected me and didn't send me anything for almost a year until Big Little Lies.
After about a year of Shailene time (during which she devoted herself to activism and protested against the Dakota Access Pipeline), her agents sent her the Big Little Lies script, but she passed. "I didn't know what it was or who was involved, I just said, 'Thanks, I'm still not interested,'" said Woodley.
Luckily for all of us, Woodley's agents kept at it and convinced the star that this project was not to be missed — and considering Big Little Lies' four Golden Globe wins and eight Emmy wins, they were right. Woodley explained that in a single moment, everything changed:
I read it, fell in love with it, and Laura [Dern], who I had worked with on The Fault in Our Stars, called me and that was really the push.
If Laura Dern called me, I would do literally anything she said. Especially if she told me that it was time to get back into acting (as if that would ever happen).
I totally respect Woodley for taking some time to herself and trying to stay grounded in the real world. But at the same time, I'm so totally grateful that she returned to acting for Big Little Lies, because the show just wouldn't be the same without her.
Now can we get some Season 2 spoilers, please?