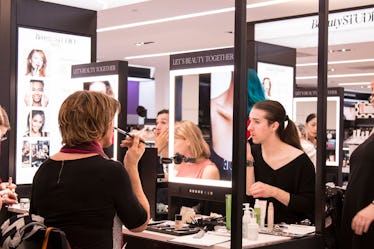 Sephora Is Offering New Beauty Classes For The Trans Community For An Important Reason
Courtesy of Sephora
I'm about to say something that lots of people might (but shouldn't) find shocking: Makeup knows no gender boundaries. Yes, I'm serious. Regardless of your biological makeup (ha) or your gender identity, wearing makeup should be a personal choice everyone is allowed to make. And Sephora's new Bold Beauty classes are making sure that those who want to wear makeup can do so confidently, specifically the trans community and non-binary individuals.
As part of their "Bold Beauty for the Transgender Community" initiative, Sephora is working hard to ensure that trans individuals and gender-nonconforming individuals are able to engage in the same areas of self-expression that so many cis-gender people do every day: through makeup. For this reason, the brand is launching Bold Beauty classes.
At 90 minutes long, these classes, which are totally complimentary, are interactive, meaning attendees can work with Sephora instructors to develop a personalized skin care and beauty regimen that best fits each individual, learn personalized techniques for applying makeup that help an individual achieve their desired look, and match complexion products to their unique skin tones. All in all, the goal of each class is to ensure attendees walk away feeling beautiful, confident in their own self-expression, and empowered to showcase their beauty in whatever way makes them happiest.
Coming in hot just in time for Pride month, Sephora will launch Bold Beauty classes around the country come June 2018 in 150 participating stores. Once the Bold Beauty classes officially launch, you'll be able to head to Sephora.com or SephoraStands.com to locate and enroll in a class near you. Of course, in addition to trans and non-binary makeup lovers, Sephora encourages friends, family, and allies to join in the fun as well.
If you aren't able to attend a class for whatever reason, you'll still be able to access resources online. Sephora Stands will include tutorials, hosted by trans Sephora instructors and geared specifically toward LGBTQ+ individuals, on their YouTube page, so everyone has an opportunity to learn.
As Pride month quickly approaches, Sephora's support of the trans and non-binary community goes beyond the upcoming Bold Beauty initiative. The brand has also teamed up with both large- and small-scale organizations through events for the LGBTQ+ community and maintains that it will continually support LGBTQ+ individuals in their journey to "feel confident and beautiful every single day."
"Sephora Stands is dedicated to supporting diversity and inclusion in all of its social impact programming. We stand with all members of the LGBTQA community and are committed to providing these individuals with the tools they want to feel confident and beautiful every single day," Corrie Conrad, Head of Social Impact and Sustainability for Sephora, said via a press release. "At Sephora, we believe beauty is yours to define, and ours to celebrate. We are honored to be a beacon of support and a part of each beauty journey through our new class offering."
While everyone deserves to confidently express themselves whenever they want and wherever they go, not everyone may feel empowered in doing so or as if they have the knowledge and/or the tools to make it happen. It sounds to me like Bold Beauty classes are a powerful way to not only equip people with what they need to make their personal beauty dreams come to light, but to foster a sense of community among people who love the same thing.
Regardless of the way you choose to do it, to me, self-expression is invaluable. And regardless of your gender orientation, you deserve to feel feel your best always and to feel accepted in however you express yourself.