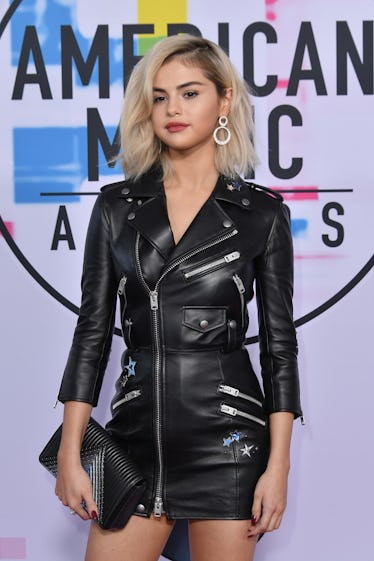 Selena Gomez Gave A Speech About Lupus Research & It's So, So Emotional
Neilson Barnard/Getty Images Entertainment/Getty Images
Fresh off her American Music Awards performance of "Wolves," Selena Gomez attended the Lupus Research Alliance's Breaking Through Gala in New York City and gave a super emotional speech. Selena Gomez's speech about Lupus Research was such a heartfelt look at what she went through with her diagnosis and her commitment to helping raise awareness so others don't have to suffer. Us Weekly reports that Gomez told the audience:
I am really honored to be here with all of you guys tonight, my Lupus community. As many of you know or might not know, I was diagnosed with Lupus about five or six years ago. I've been speaking out about my situation to raise awareness of the disease so people see a doctor right away or if they feel like they have any symptoms. And just so that honestly people can understand what it means to live with Lupus.
She continued: "I also want people to know why research is so important and why we must support the scientists who bring all the promise of new discovery."
Gomez also shed a light on her diagnosis and the seriousness of what she would be facing, as doctors told her she might need a kidney transplant. She explained:
After undergoing so many tests to monitor my kidneys, my doctors told me I had Lupus Arthritis, one of the most common complications of Lupus. They said that I would be needing a kidney transplant. Maybe I wasn't necessarily really good at knowing what that meant so it actually got to a point where it was life-or-death. Thankfully, one of my best friends gave me her kidney and it was the ultimate gift of life. And I am doing quite well now.
She, of course, is talking about the amazing gift that Francia Raisa gave her and it's so good to hear that Gomez is doing well.
Gomez continued, speaking highly of her doctors and the treatment she received:
Two of my doctors are actually here with their beautiful partners and I just want to say thank you so much because it feels good to actually be honored and people like you where — in my world it can seem kind of vain, but this is really, really special. Not everyone is lucky enough to have a donor, and something as monumental as an organ transplant shouldn't be the best treatment option available.
She also provided a message of hopefulness that research can someday find a cure, explaining:
I am supporting the Lupus Research Alliance because they are getting results and that's what give people hope. The Lupus Research Alliance works with the top researchers who are finding new and safer ways to treat and maybe even prevent damage to the kidneys and other organs. The scientists they fund are looking at what causes Lupus so maybe someday they can be cured. I'd like to see the day when all young women can realize their dreams of life without a Lupus.
Gomez added: "This is why I am committed to the Lupus Research Alliance. So that none of us are alone, especially the young women that I have grown up with and heard many, many stories. I just want to say thank you and I hope we can do something for all of the younger people who need to know what this means."
Fans were understandably moved by Gomez's speech, taking to Twitter to share their love and support for the singer/actress.
Indeed, Gomez has shown that she's a fighter and there's no doubt she'll be a voice for the continued search for a cure for Lupus.
Check out the entire Gen Why series and other videos on Facebook and the Bustle app across Apple TV, Roku, and Amazon Fire TV.