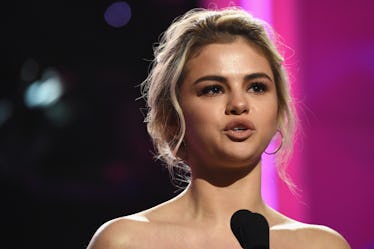 Selena Gomez Impacted '13 Reasons Why' Season 2 In A Major Way & It's So Emotional
Michael Kovac/Getty Images Entertainment/Getty Images
After debuting an equally acclaimed and criticized first season on Netflix last year, 13 Reasons Why is preparing for the debut of its second season later this year. Dealing mainly with teen suicide in Season 1, the show plans to cover other real-life issues relevant to young viewers in new episodes. Executive producer Selena Gomez has continued her overseeing of the series, and even after facing severe health complications last summer, she remained an inspiration for the cast. In particular, Selena Gomez impacted 13 Reasons Why Season 2 in a special way, and her influence on the cast seems to be much appreciated.
Speaking to Us Weekly, cast member Miles Heizer thanked Gomez for sticking with the show despite her undergoing a kidney transplant in response to other health complications last year:
She really was such a big part of getting the show made in the first place and I think she continues to do that and to always be there to support us, stand up for us, and the controversy that's surrounded the show. She's always been there. I think [what she went through] is very scary and very stressful and ultimately just glad that she's OK and that everything's going well for her right now. It's terrifying. I'm just glad she's OK.
Although she successfully received a strong kidney from friend and fellow actress Francia Raisa, Gomez had a near-fatal experience following her surgery last summer. In an interview with W, Raisa spilled on how Gomez nearly died when some things went wrong post-procedure:
Recovery was hard. I didn't want to eat, I didn't want to drink anything. Selena did have a complication, too. A few hours after our surgery, I woke up and had a text from her that said, 'I'm really scared.' My kidney was very active, and when it turned I broke an artery. They had to take her into emergency surgery and get a vein from her leg and build a new artery to keep my kidney in place. She could have died.
With reports out there of Season 2 of 13 Reasons Why recently wrapping production, it's unclear how physically present Gomez was on set following her recovery. Based on a 2007 book by Jay Asher, the show's first season received flak from some critics for its grimly realistic portrayals of suicide, rape, and other mature issues. Defending the series in a June 2017 interview, Gomez pointed out that the show's intense depictions were only mirroring some teens' realities:
The content is complicated, it's dark and it has moments that are honestly really hard to swallow. I understood that we were going into something that is difficult, but these kids today are so exposed to things that I would never even have comprehended when I was eight. My cousin teaches third grade and they're doing things and saying things that I couldn't even fathom. I feel like if this is what we are going to talk about, we might as well do it in a way that's going to be honest, it's going to be real, and it stays true to the book.
Heizer, who plays Alex on the show, also told Us Weekly that Season 2 will continue to deliver storylines with realistic, often taboo issues to fans:
We're just talking about real issues that people don't talk about that much, but I feel like are actually talking about more, especially right now in our culture. I think this season's gonna be very relevant. I'm excited for it to come out and for people to see what's going on.
Gomez hasn't addressed the future of 13 Reasons Why since she publicly shared news of her surgery, but it's clear that she values the show's ability to inspire important conversations among teens. Once Season 2's official premiere date is known, perhaps we'll hear some more from her about her work on the show.