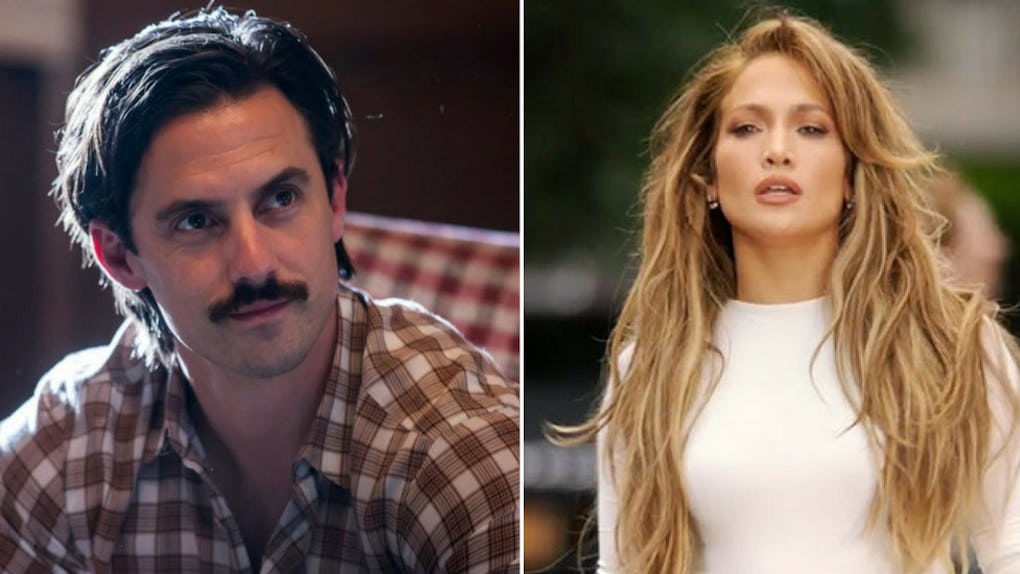 NBC, YouTube
'Second Act' Cast Stars Milo Ventimiglia & Jennifer Lopez & No One Can Control Their Emotions
Get ready for one of the hottest movie couples ever... and it's a pretty unexpected one, too! TV heartthrob Milo Ventimiglia just signed on to Jennifer Lopez's upcoming romantic comedy, Second Act, and it sounds like we're going to see some sparks fly between them. Milo Ventimiglia will play J. Lo's boyfriend in the new movie, according to Variety, and the casting news has fans of the two stars shook.
Milo Ventimiglia will be playing the longtime boyfriend of Jennifer Lopez's character in Second Act, which is slated to come out next year. We don't know much about Ventimiglia's character yet, but the movie will be about Lopez's character reinventing her life, starting out as a Costco employee who uses her street smarts to make it big on Madison Avenue. Leah Remini will play the best friend of Lopez's character, and Vanessa Hudgens is also attached to play an executive at a consumer goods company. Other cast members include Freddie Stroma (UnREAL, Harry Potter), Dan Bucatinsky (Scandal), and Annaleigh Ashford (Masters of Sex).
This will be the first time Milo Ventimiglia and Jennifer Lopez have ever worked together on a project, which makes it all the more exciting for fans to see these super buzzy stars team up and play boyfriend and girlfriend on-screen. Just call them J-Milo. Or Mi-Lo. Maybe just Milo & J. Lo? I know there's a good couple name in there somewhere!
Although they've never worked together, Milo Ventimiglia and Jennifer Lopez actually have gotten to know one another better over the past year after both stars began helming their respective NBC series — Ventimiglia stars as the deceased father Jack Pearson on This Is Us and Lopez stars as police officer Harlee Santos on Shades of Blue. The two were photographed together at an NBC event back in March, and Lopez has even come out as a massive fan of Ventimiglia's show This Is Us. A couple months ago, she and her boyfriend Alex Rodriguez recreated a scene from the show in which Milo's character Jack did push-ups with his son Randall. Earlier this month, Milo's co-star Chrissy Metz said she was so surprised when she learned Jennifer Lopez was a major fan of the series.
It's safe to say J. Lo isn't the only massive Milo Ventimiglia fan out there. Twitter erupted in excitement after new of the casting broke on Wednesday afternoon. Check out some of the best responses below:
Although, I guess if you're a hardcore This Is Us fan, it may be hard to see Jack Pearson making out with J. Lo and not Rebecca (Mandy Moore). Second Act will be Milo Ventimiglia's first major motion picture in the romantic comedy genre since reemerging to TV fame in This Is Us. He first came to fame as another romantic lead: the small-town bad boy Jess Mariano in Gilmore Girls. His other major TV role between those two was as the paramedic-turned-superhero Peter Petrelli in the NBC drama Heroes.
Jennifer Lopez is best known for being the international pop star behind some of the biggest Top 40 songs of the 2000s, but she's also cultivated a respected career as an actress thanks to movies like Selena, Out Of Sight, and Maid in Manhattan. She currently stars in the crime drama Shades of Blue, and will star in NBC's next live musical: Bye Bye Birdie Live!
The news of Milo Ventimiglia and Jennifer Lopez playing boyfriend and girlfriend is exciting, but unfortunately fans are going to have to wait a while before they can see the on-screen couple together. Second Act is set to come out sometime in 2018, and since it sounds like they're just beginning the filming process now, it probably won't be until towards the end of the year.