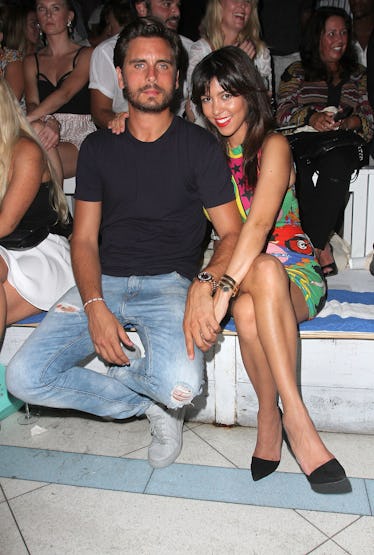 Scott Disick's Reported Reaction To Kourtney Kardashian's Breakup Is Actually Mature
John Parra/Getty Images Entertainment/Getty Images
Kourtney Kardashian is a single woman now and lots of fans are wondering if she's going to reunite with her former beau Scott Disick. While the two share three children and have a long history together, it's not looking like they'll be running back into each other's arms anytime soon. Despite that, though, Disick has reportedly been expressing his feelings about Kardashian's breakup to people in his inner circle. Actually, Scott Disick's reported reaction to Kourtney Kardashian's breakup is surprisingly mature and grounded... even for him.
In a new report from E! News, a source close to Disick revealed that the reality star is pretty happy that Kardashian ditched her boyfriend Younes Bendjima. But that doesn't mean Disick's skipping out on his girlfriend Sofia Richie just yet.
"Scott is very happy Kourtney cut it off with Younes," the source told E! News. "Although he is happy in his relationship with Sofia, he never liked Younes for Kourtney." Elite Daily reached out to Disick's team for comment on this report, but has not heard back at the time of publication.
So, basically, it sounds like Disick is keeping an eye on Kardashian from a distance, which makes sense since she's the mother of his kids and he undoubtedly cares about her a great deal. But even so, if sources are to be believed, Disick is sticking it out with Richie for as long as possible.
Fans are probably not too happy about that. Some of them actually believe Kardashian and Disick will find their way back to each other eventually and, while life has a funny way of reuniting people sometimes, that doesn't mean it'll happen in this instance.
In any case, E! News' insider source explained that Disick and Kardashian are mostly in a good place right now and that their main focus is and will always be their kids.
"Scott and Kourtney are in a cordial place right now," the source said. "Scott is always resistant to rock the boat with Kourtney. He truly will always care about her as [he] wants her to be happy. Everything is always better for the kids' sake, when they are in a good place."
It sounds like those two have their minds and hearts in the right place, which is amazing. And so very mature of both of them, too.
A second source also spoke to E! News about Disick's feelings about Kardashian dating Bendjima and it seems like he learned a lot about himself (and Kardashian) by dating Richie.
"In the beginning, Scott was making fun of Kourtney for dating someone so young and saying it would never last," the second source explained. "Once he got with Sofia, he couldn't say anything about Younes. It gave him a lot of perspective and understanding that age is just a number."
Apparently, all Disick wants is for Kardashian to be happy whether she's with Bendjima or someone else. And that's really all anyone can ask for, right? But Disick didn't come to this state of mind without a bit of work and reassessment.
"It was hard for him to see Kourtney dating and he was looking for any reason to not like Younes," the second source continued. "But since being with Sofia, he has moved on. Scott cares a lot less than he used to. Of course, Kourtney has a very special place in his heart and always will. He wants Kourtney to be happy."
It's amazing how much growth can happen for people like Disick and Kardashian when they step out of their comfort zones and explore their options. It seems like they've both learned a lot.