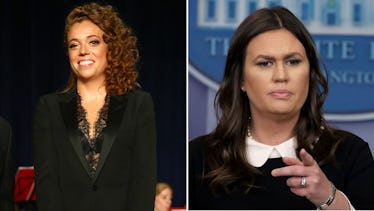 Sarah Sanders Clapped Back At Michelle Wolf's WHCD Jokes About Her & It's So Petty
Mark Wilson/Getty Images News/Getty Images/Tasos Katopodis/Getty Images Entertainment/Getty Images
The White House Correspondents' Dinner is over, but the drama is still in full swing. White House Press Secretary Sarah Sanders has finally commented on that night, and the drama levels basically just grew exponentially. Though Wolf did not hold back during the black-tie event, Sarah Sanders' response to Michelle Wolf's WHCD jokes is so petty, and, I would also like to point out, not at all creative.
Sanders appeared on Fox & Friends on Thursday, May 3, to respond to Wolf's White House Correspondents' Dinner bit from April 28, in which the comedian had some choice words for Sanders, President Donald Trump, and nearly everyone else in the press and in politics. In the aftermath, a lot of people were ticked off by Wolf's jokes, and it seems like Sanders is one of them. She clapped back with a little dig at Wolf. "That evening says a whole lot more about [Wolf] than it does about me," said Sanders.
The press secretary then went on to talk about how proud she is to work for the Trump administration and of how well they have done so far, adding in some (extremely petty) hopes and wishes for the Daily Show alum. She said,
I'm very proud of the fact that I work in this administration, for this president, and we are going to keep pushing forward and doing everything we can to make America better. We've had a great first year and a half at doing that. it's a success story that we're proud of, and I hope that she can find some of the same happiness that we all have, because I think she may need a little more of that in her life, 'cause the rest of us here are doing great.
Sanders' response seems a little, I don't know, petty or even childish to me. You're going to say that a comedian, who was literally hired to get up on that podium and make fun of everyone, did it because she isn't as happy as all of you frolicking in Trump's White House? It seems very high school.
Fox & Friends host Ainsley Earhardt sided with Sanders and expressed what seemed to be genuine sympathy. Earhardt said,
We're so sorry that that happened. There's no excuse for that. I mean, women should support other women. You handled it with grace and with class.
I totally agree. Women should support women, and Wolf made it very clear that she thinks Sanders' job in the White House is problematic given the fact that she is a woman who is the mouthpiece of a president who does not have the best track record when it comes to women.
Wolf's jokes called Sanders out for her role in supporting the president with some take-no-prisoners jokes, especially the first one that referred to Sanders as Aunt Lydia from The Handmaid's Tale, a woman who is responsible for indoctrinating other women into the reproductively coercive society. "I love you as Aunt Lydia on The Handmaid's Tale," Wolf said. "Mike Pence, if you haven't seen it, you would love it."
As Wolf points out, Sanders represents the president, whom multiple women have accused of sexual misconduct. The official White House position on those allegations remains that the women are all lying, and Trump has also tweeted that he's never met his accusers. That's on top of all of the nasty things he has said about women during his 2016 campaign, during his presidency, and before, such as appearing to reference Fox News anchor Megyn Kelly's period during a 2015 presidential debate, or repeatedly saying during the 2016 campaign that Clinton's only asset was her "woman card." Oh, and let's not forget his infamous Access Hollywood tape, in which he talked about grabbing women "by the p*ssy."
And Trump's policies also have not been the best for women, either. For example, in March 2017, shortly before Equal Pay Day, he revoked a 2014 policy which was intended to guarantee workplace protections for women employed by federal contractors; and in October 2017 he rolled back an Obama-era policy that required companies to provide free birth control under the Affordable Care Act.
So, Earhardt, do you see that double standard?
There's no doubt that Wolf's jokes were scathing, but that's what she was there to do. She was hired to mock everyone and she did it. Her jokes, albeit harsh, pointed out some pretty dark truths about the current state of affairs.