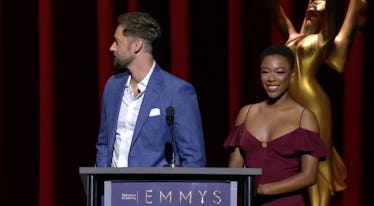 Samira Wiley's Reaction To Elisabeth Moss' Emmy Nomination Will Make 'Handmaid's Tale' Fans Sob
Television Academy
Frequent Emmys staple Samira Wiley appeared alongside New Amsterdam star Ryan Eggold to announce the 70th Primetime Emmy Award nominations, and I don't know about you, but I always find myself smiling when she pops up in an unscripted fashion. She didn't disappoint at the nominations announcement when she was on stage for the reveal of her The Handmaid's Tale co-star Elisabeth Moss's Emmy nomination. Samira Wiley's reaction to Elisabeth Moss's Emmy reaction will make Handmaid's Tale fans' day.
Although Wiley learned of her own Guest Actress in a Drama nomination in for her The Handmaid's Tale appearance on air, what fans truly delighted in was her sweet reaction to seeing Moss's name on the Lead Actress in a Drama list. Moss took home this trophy last year in the surprise sweep of Handmaid's Tale victories and was nominated for what felt like a hundred times for Mad Men, but going by Wiley's response, the special recognition never gets old.
In the livestreamed announcement of nominees, Eggold was the one to read Moss's name, and although the camera was focused on her headshot, fans could hear Wiley in the background saying, "Whaaaat?," as in, "Yass, girl!"
Same, girl, same. You can catch (or hear, rather) the moment around the 17:02 mark.
Later in the broadcast, Hayma Washington, chairman and CEO of the Television Academy, joined Wiley and Eggold to reveal the nominees for Best Comedy and Drama Series. Before he shared the lists, he broke the news of Wiley's own Emmy nomination to her. Her reaction to her own success, around the 20-minute mark, is so low-key and casual - "Hey, that's cool!" - that I can only imagine Wiley is one of those friends who will always help you celebrate your own achievements before her own. And we can all use a friend like that, right?
While Moss joins a hefty category alongside the likes of Sandra Oh, Tatiana Maslany, and more, Wiley is in the Guest Actress category with another Handmaid's Tale co-star, Cherry Jones, as well as fellow guest star Kylie Jenrette, who appeared in "Other Women." Wiley is nominated for her appearance as Moira in the Season 2 episode "After." The Guest Acting awards are given out at the Creative Arts Emmys, which usually occur about a week before the Primetime Emmys ceremony.
Wiley and Moss have been vocal about their respect for each other and their work in The Handmaid's Tale before. Speaking to SELF in September 2017, Moss said of Wiley:
Acting with Samira is like being in a beautiful boxing or tennis match. She reacts physically and emotionally to every tiny adjustment, ebb, flow, or anything thrown her way. She is one of the absolute most present actors I've ever worked with. She's one of those actors that makes you feel like there's nobody else in the room when you are in a scene with her. It's just you and her. Tossing it back and forth.
In the same SELF article, Wiley said about Moss:
Coming into this, I was so in awe of her talent. I had all these plans in my head, all these ideas for how I was going to get us to have this amazing rapport, but working with her was easy because we had so much in common.
Aww, three cheers for ladies supporting ladies! Here's hoping that we get some fierce red carpet pics of these two together on the big night of the Emmys.
The 70th Primetime Emmy Awards air on Monday, Sept. 17, at 8 p.m. Season 2 of The Handmaid's Tale is available on Hulu.