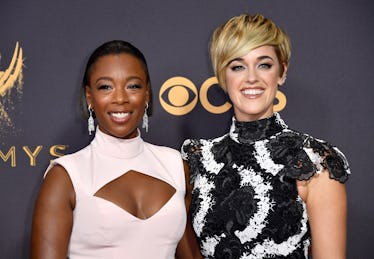 Samira Wiley Gushes Over Wife Lauren Morelli: "Her Kindness Knows No Bounds" – EXCLUSIVE
Frazer Harrison/Getty Images Entertainment/Getty Images
Whether you know her as Poussey from Orange Is The New Black or Moira from The Handmaid's Tale, fans can't seem to get enough of the beautiful Samira Wiley. The 30-year-old actress captures hearts on and off-screen, but no one knows her better or loves her more than wife Lauren Morelli. Elite Daily had the chance to speak to the OITNB star about her marriage at the launch event for American Express' Pay It Plan It feature on Oct. 3. Trust me, Samira Wiley's quotes about Lauren Morelli prove they're "couple goals" even IRL.
Wiley and Morelli married in March 2017 and had a beautiful ceremony in Palm Springs, California. From eating Pillsbury Funfetti cake to blasting Justin Bieber's "Baby," you could say the two planned a non-traditional wedding. Now, it's been roughly six to seven months since the couple tied the knot. When asked to reflect on how her life has changed, Wiley tells Elite Daily,
I feel more confident now than ever, in us, in our relationship, and in us as a unit. Really, when you get married — well, I'll talk from personal experience — it feels like I have sort of ceased and we're now a unit...
After laughing for a moment, she clarifies,
Well, I haven't 'ceased,' we are individuals but also a unit... and I think it's really helpful to think about it in that way... that you're walking through life hand-in-hand with another person.
Wiley gushed about her wife, sharing that she loves Morelli's "kindness" more than anything. She says,
Her kindness knows no bounds.
The two have a beautiful love story, meeting on the set of Orange Is The New Black in 2012; Wiley was in front of the camera, and Morelli was behind it. In a 2016 interview with Out Magazine, Wiley explained,
We met in December 2012. We were both working on Orange Is the New Black, our first big jobs in the industry. The cast would get every script to read, and with every new script came a new writer whom they'd fly out from Los Angeles to meet us. Lauren wrote episode six of the first season, one of the first scripts really featuring my character, Poussey. We spent four days in a row working together. Honestly, I thought she was gay the first time I met her.
However, things weren't always seamless — their relationship had a rough start. Morelli was married to a man at the time, which created complications for the couple. Morelli said she was "very confused" and started "questioning [her] sexuality as a result of being in the writers' room." Eventually, she told her husband and the two separated. Throughout her journey toward discovering her sexuality, Morelli says Samira "became [her] outlet" and "through that process" they fell in love.
The two taught each other how to "self-love," Wiley explained:
There's this Sara Bareilles song we love called 'I Choose You.' For so long in our relationship, I wasn't 'the one.' I was just waiting and being supportive of Lauren's journey. To see her embrace her sexual orientation the way she has is like that song: 'I choose this life as a gay woman, and we choose to spend this life together.' I think — I know — I would not be where I am without Lauren. When I was first being thrust into the public eye, I wouldn't talk about my orientation. Being with Lauren taught me self-love.
Elite Daily asked if Wiley has any advice for new members of the LGBTQ+ community, who, for the first time, are coming to terms with their own sexuality. The star tells us,
I think the advice that I have is that you're enough, exactly how you are, and there's somebody out there who knows that.
Beautiful, Wiley. Thank you.
To learn more about Pay It Plan It, a new feature from American Express that "gives you more options for how you pay for the things you buy," you can go to americanexpress.com/payitplanit.
Check out the entire Gen Why series and other videos on Facebook and the Bustle app across Apple TV, Roku, and Amazon FireTV.