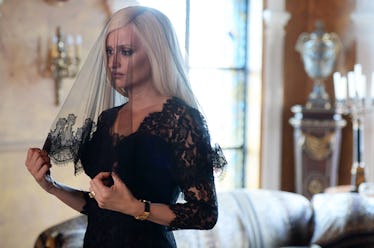 Ryan Murphy Signed A Massive Deal With Netflix & Here's What It Means For 'AHS' Fans
FX
Late on the night of Feb. 13, an earth-shattering piece of news hit the entertainment sphere. Ryan Murphy, one of the most solid hit-makers at 20th Century FOX TV, was moving on. He had signed a $300 million dollar deal with Netflix and would be moving, bag and baggage, to the streaming service once his contract ended with FOX in July. For those who love Murphy's multiple shows, the question becomes, what does Ryan Murphy's Netflix deal mean for American Horror Story, or American Crime Story, or the still-to-come shows like Pose?
The good news is that Murphy's deal imitates Shonda Rhimes' deal with Netflix that she signed six months ago, so those shows won't be going anywhere. Netflix isn't interested in bringing over shows that are already established on other networks.
That was good news for ABC, whose Thursday night Shondaland lineup helps define their entire broadcast network ethos. And that will be at least somewhat good news for FX, where Murphy-penned shows have been major staples ever since Nip/Tuck back in 2003. Currently, they have two more seasons of American Horror Story and American Crime Story in the works, along with the third season of Feud, and one of the brand new show Pose. Murphy's company also produces their newest hit, 9-1-1.
So, what is the deal with Netflix exactly? Here are the details, according to Deadline.
In what is believed to be the biggest TV pact ever, Ryan Murphy, an Emmy, Golden Globe and Peabody Award-winning producer, director and writer, has signed an overall deal with Netflix, which could reach as high as $300 million, sources said. It starts July 1. Under the five-year agreement, called 'the deal of a lifetime for an artist of a lifetime' by one industry insider, Murphy and his Ryan Murphy Productions will produce new series and films exclusively at Netflix. Murphy is moving... after a long stint at 20th Century Fox TV. He was one of the biggest names on the talent roster of the studio, which is poised to become part of Disney as part of the proposed acquisition, making his departure a blow to the combined entity.
The Disney merger may be the precipitating event that caused Murphy to jump ship after being with FOX for 15 years and counting. When asked about it on the Television Critics Association's winter press tour last month, he made jokes about it, but there was a sour note to his comments. Deadline reported at the time that he said:
I was not very prepared for what happened... I haven't made a decision of where I'm going to go, but I'm going to wait and sit back... I've created a company that's really trying to move the bar forward by hiring women and minorities and getting equal pay for women and I want to continue that wherever I go. I want to make sure that community is being taken care of. When I started in 2003, I was told I was someone who was not employable; I was too specific and niche... Three months ago, I thought I was going to be buried on the FOX lot. I had my mausoleum picked out.
He also indicated at the time that Disney's CEO Bob Iger had called him personally and said they wanted him and his company as part of the deal. It should be noted that while Disney is more family-friendly than Murphy's typically shows, when they picked up Pixar, Marvel, and Lucasfilm, they left everything intact and functioning as independent units. But Murphy was clearly not okay with it: "I was concerned: Do I have to start putting Mickey Mouse in American Horror Story?"
Upon further review, it seems Murphy decided it wasn't worth waiting for when Netflix was sitting there, ready to back up the money truck the moment he said yes. Now the question is, what shows will he bring them? There's already talk of a One Flew Over the Cuckoo's Nest's origin story series starring his muse, Sarah Paulson. From there, he could go anywhere.