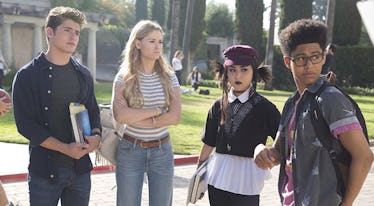 'Runaways' Season 2 Will Include A Major Connection To The Marvel Cinematic Universe
Hulu
While Captain America and Iron Man were battling Thanos on the big screen, in another corner of the Marvel Universe, a group of superpowered teenagers were finding out that their parents were all hiding a big, evil secret. And after Avengers: Infinity War ended with a world-decimating snap, Marvel fans want to know now more than ever whether Marvel shows like Runaways will truly embrace its shared universe status with the Marvel Cinematic Universe or not. While most Marvel shows have opted to exist separately from the movies, Runaways Season 2 will connect to the Marvel Cinematic Universe, the show's co-creator confirmed.
Marvel's Runaways concluded its 10-episode first season at the very beginning of 2018, with its eponymous superhero team finally coming together after coming to the realization that their parents were part of an evil organization called Pride. Showrunner Stephanie Savage revealed that the second season of the show will consist of an expanded 13 episodes premiering on Hulu on Dec. 21, and she also said that the new season will pick up immediately after where the Season 1 finale left off. In case you need a reminder, Season 1 ended with all the teen heroes finding out that they have been framed for murder by their parents, and deciding to finally live up to the show's name by running away.
The second season will feature Alex, Nico, Karolina, Gert, Chase, and Molly discovering the Runaways' iconic hostel hideout, which the show is reimagining as a decrepit mansion that was swallowed by an earthquake and is now under Griffith Park. As they begin to live together, the six teenagers also begin to form their superhero team, as they realize it is up to them to take down their parents' organization Pride and its mysterious, superhuman leader Jonah. However, allegiances will be tested when it is revealed that one of the Runaways may be secretly in communication with Jonah.
But for Marvel fans, perhaps the most exciting detail that showrunner Stephanie Savage dropped about Runaways Season 2 is that it will include a connection to the Marvel Cinematic Universe. Savage teased that the new season will include a reference later in the new season that will be the show's "first real breadcrumb that connects us to the MCU, in some way." It is anyone's guess what that reference will be: it could be anything as small as just a character briefly mentioning a MCU hero's name, to something as big as the show taking Thanos' snap into account.
Whatever this connection is, it will be a pretty major deal for how Marvel connects its movies and TV shows. Marvel's Netflix shows — Daredevil, Jessica Jones, Luke Cage, and Iron Man — have all crossed over with one another in The Defenders, but have never included a major connection to the Marvel Cinematic Universe. Marvel also has Agents of S.H.I.E.L.D. and Cloak & Dagger, as well as the currently-Fox-owned Legion and The Gifted, on the air, all of which have also not yet included a major MCU connection. Maybe Runaways will finally open the portal between Marvel's TV universe and its movie universe.
Season 2 of Marvel's Runaways will premiere on Hulu on Dec. 21, 2018.