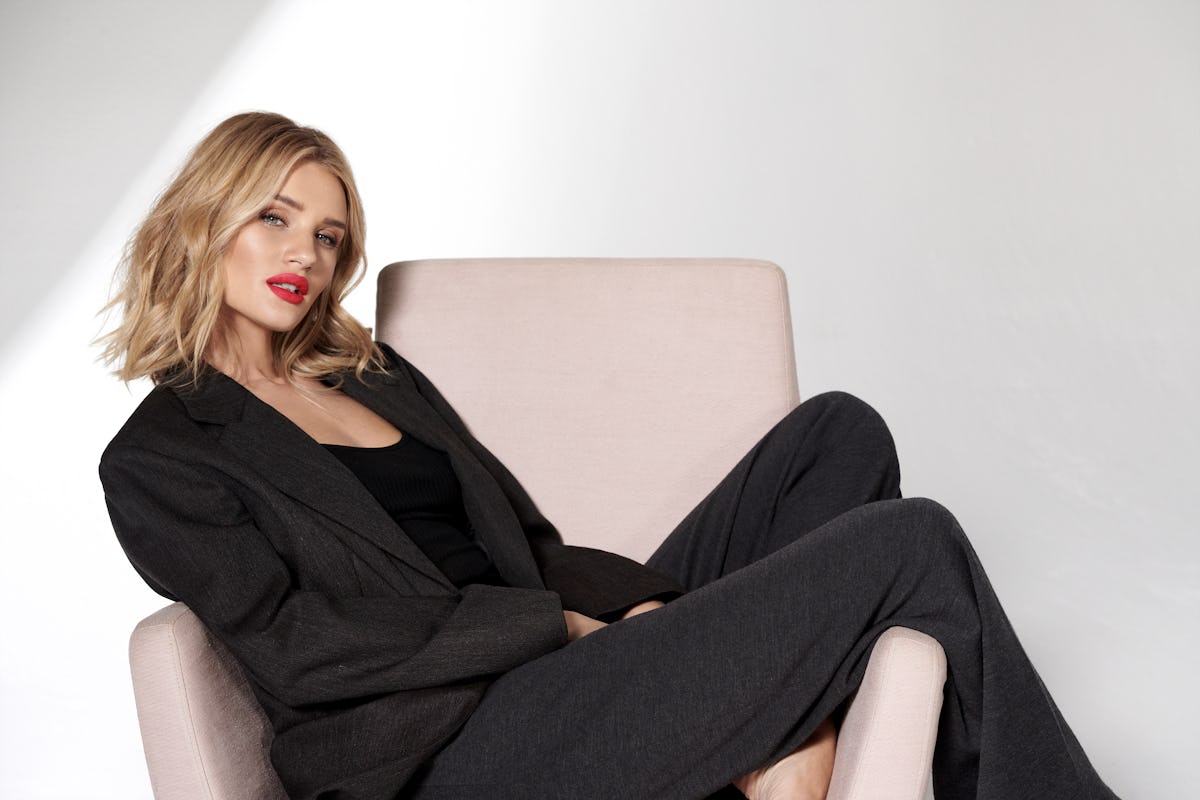 Rosie Huntington-Whiteley Reveals The Scariest Photo Shoot Look She's Ever Had To Wear — EXCLUSIVE
Courtesy of bareMinerals
Looking back on my pre-teen and early teen years, I thought I had my fair share of questionable fashion moments. (Anyone remember moon shoes? WTF was up with those?) Then, Rosie Huntington-Whitely revealed some of the wildest looks she's had to wear, and I quickly realized my wilder fashion moments seemed like child's play. Figures. Not everyone's calling in life is to be an über successful model, movie star, and businesswoman.
Recently, Elite Daily had a chance to chat with Rosie about her beauty secrets, her upcoming masterclass with bareMinerals, and more. And trust me, the former Victoria's Secret model isn't slowing down anytime soon. Just recently, Rosie launched a website called Rose Inc., an online community where beauty lovers can learn from her and the makeup artists she works with and to come together in mutual appreciation for how fun all aspects of beauty can be.
"We launched Rose Inc. back in May, and Rose Inc., for me, [I've] kind of been, like, building to it my whole career. I've spent every day that I've been working as a model in the hair and makeup chair with some of the best people in the industry," she tells me. "I've learned so much, and I really wanted to find a way to bring that to people and really discuss what I've learned and discuss the things I'm passionate about with people, take it off just being on social media, and ... build somewhere where people can come and be inspired and can feel like they belong in a community with other fellow beauty junkies."
Of course, Rosie's career path from "model just starting out" to accomplished model, movie star, mom of one, and now beauty guru wasn't always an easy one. Let's just say, well, everybody has to start out somewhere, even if it means having to wear "absolutely horrendous" looks. "I'm so grateful that really, like, at least the first five years of my career, you probably won't see much of it, because it was kind of before everything went on the internet," she tells me over the phone. "Thank God, because there were some really interesting looks."
Oh, and by "interesting looks," Rosie means looks that were high-key very dangerous. "For one shoot, I remember — and looking back, it seems so insane that this was even a thing — I remember having a crown with actual real candles lit on top of this crown on my head," she says. "And I just remember being so terrified to move because, of course, like, my entire head would be set on fire."
If you want to see that look in action for yourself, well, I can't really help you. Unfortunately, Rosie says those photos are "all buried." And after much digging on my part, it seems like she's right. But that doesn't mean someone out there isn't hoarding all of them. "I'm sure some photographers are having a good old laugh at some of the images that they could pull out their archives," she jokes.
While she's had to endure some pretty, well, interesting looks throughout her career, those were a small price to pay for the wealth of beauty tips and tricks she's learned from working with a plethora of incredibly talented beauty professionals. Although she doesn't think "there are really any beauty secrets out there that have not been told," she does say there's one classic hack out there that works better than anything else. "You know, I think there's this kind of idea: Skin first, makeup second," she tells me. "I really liked that as a kind of piece of advice."
Rosie isn't wrong. Prioritizing and refining your skincare is the first step in ensuring you have a healthy base to work with. In fact, skincare is the part of Rosie's routine she says she's "most diligent about."
"I don't have perfect skin. I suffer with acne from time to time. I suffer with various different skin conditions. And I think that, for me, I'm always on the hunt for a great skincare routine," she says. "Skinlongevity by bareMinerals has some really beautiful products that I love to use. Especially when my skin's feeling extra sensitive, they're really great."
Rosie has already become a force in the modeling and film industry, and now, she's swiftly stepping up to the plate in the beauty industry as well. The 31-year-old was recently announced as one of bareMinerals' new Beauty Ambassadors — something she tells me she's very excited about. "[bareMinerals is] a brand that is all about making a difference through better choices without sacrificing product performance. I've been a fan of the brand for some time now, and it feels like a really natural fit to be able to talk about something that you genuinely love and genuinely use."
Now, Rosie is taking alllllllll of the beauty knowledge she's gained over the years, as well as the professional makeup artists she's grown close with in that time, and packaging it all into a new masterclass with bareMinerals for Rose Inc. On Friday, Oct. 26, from 3 p.m. PT to 6 p.m. PT at Goya Studios in Los Angeles, masterclass attendees will be treated to incredible tutorials and advice from two renowned makeup artists, Nikki DeRoest and Katie Jane Hughes; a chance to learn all of Rosie's amazing tips, tricks, and favorite looks; a chance to chat with all three hosts; and a generally fun, welcoming outlet for beauty lovers to gush over all things makeup and skincare.
While fans and attendees will obviously garner a wealth of new beauty knowledge from the masterclass, one thing Rosie wants everyone to walk away from the class knowing is "how authentic the relationship is between me and my artists and how much fun that we have."
"At the end of the day, we're not curing any diseases and we're not rocket scientists," she continues. "It's beauty. It's about having fun. It's about experimenting. It's about being creative, and I hope that that's what everybody walks away from it learning."
If you're in L.A. (you lucky dog!) and are interested in attending the masterclass on Oct. 26, you can click here for more info on ticket prices and how to purchase them. If you aren't in L.A., but still want to soak up Rosie's beauty wisdom, as well as that of professional MUAs, you can visit roseinc.com to join a community full of fellow beauty lovers. See you there.