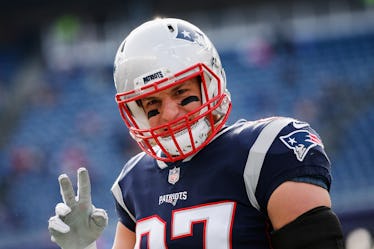 Rob Gronkowski's Net Worth Is So High, You'll Wish You Were In The NFL
Jim Rogash/Getty Images Sport/Getty Images
While Tom Brady is the name everyone knows from the Patriots team this year, there's another player who has been just as invaluable to the success of New England's team: Rob Gronkowski, aka Gronk. Considering how the tight end has played over his career, it's hard to imagine him not being a household name for the team. And to that end, Rob Gronkowski's net worth is so high that it rivals his quarterback.
At the end of last year's season, the Patriots had just won their fifth Super Bowl win since Brady took over the team, and second since Gronk joined in 2010. There was a lot of contract work and restructuring that happened. One of them was Gronkowski's contract, and according to Sports Illustrated, it almost doubled his salary from $5.25 million to ~$10.75 million. (That is, if he played 90 percent of the games. If he was injured and missed some, it would drop. If he played 80 percent of the time he would get $8.75 million, 70 percent would be $6.75 million, etc.) Not bad for a guy who holds the single-season record for touchdowns by a tight end. All he has to do is stay healthy, which he's trying to do right now for Super Bowl LII on Sunday, Feb. 4, 2018.
But here's the real kicker. Gronkowski grew up a middle class kid, and to him all this extra money he's taking home week after week isn't necessary for his lifestyle, especially when he has endorsements from BodyArmor, SuperDrink, and Dunkin' Donuts, which give him about $6 million per year. So, he saves all of the money he makes from the NFL.
All of it.
According to Business Insider, Gronk said the following on how he stays thrifty:
To this day, I still haven't touched one dime of my signing bonus or NFL contract money. I live off my marketing money and haven't blown it on any big-money expensive cars, expensive jewelry or tattoos and still wear my favorite pair of jeans from high school.
This means that despite his tight end salary only being $10 million (in comparison to, say, Brady's $44 million), Gronk is saving every last penny. That pushes his current net worth far higher than what you might expect. According to FinnApp, it stands at $153 million, less than $30 million shy of Brady's $180 million. And Gronk is only 28 years old. He's still got lots more football left to play.
That is, if he stays healthy. One of the biggest stories leading into next weekend's Big Game is the state of Gronk's head. It is a hard truth that these guys make money by getting hit in the head over and over again, and that means that concussions are a thing. Gronkowski was diagnosed with one after the AFC Championship game, and he is under "concussion protocols", which are causing him to miss Super Bowl LII opening night. That's the beginning of the festivities that make up Super Bowl Week.
This also means that Gronk is not allowed to talk to the media during this time period, which is a blow to gaining more endorsements, since this is the time for players to put themselves out there and show what great spokesmen they are for various brands. Still, according to ESPN, he's still got his sense of humor. And he's been seen practicing, suggesting that when it comes time for the weekend, doctors are expected to clear him to play. Will he land a third Super Bowl ring and another contract restructuring to keep piling the money away? We'll find out on Sunday.