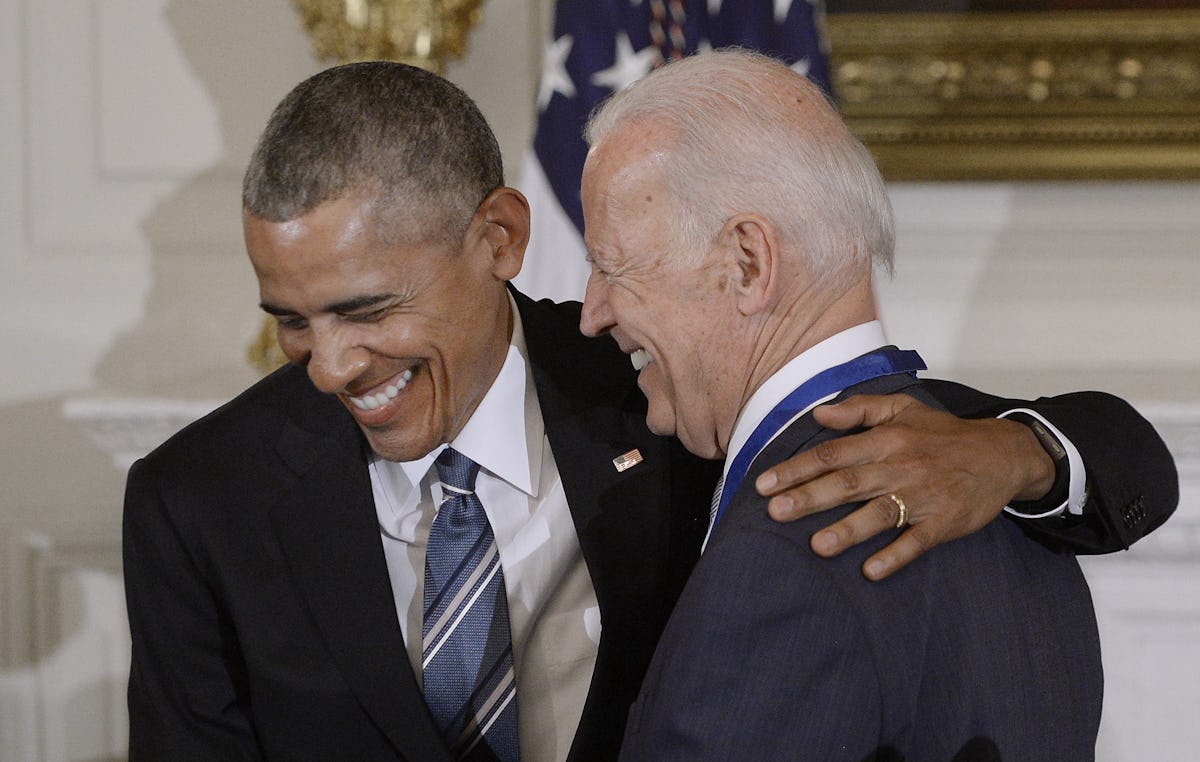 A GOP Website Tried To Troll Obama & Failed Miserably
Pool/Getty Images News/Getty Images
Creative error codes are in style for websites these days and pretty much every site has one. So, it's really no surprise that GOP.com — which is a website run by the Republican National Committee (RNC) — made an effort to create a unique error message of its own (keyword, effort). The RNC website tried trolling former President Barack Obama with its error code, but the attempt fell flat on its face.
According to The Washington Post data reporter Christopher Ingraham, the GOP website was coded in a way that was supposed to show a specific, shady message about Obama in case a visitor ran into a page with an error. The message was meant to read, "Oops! Something went wrong. Unlike Obama, we are working to fix the problem... and not on the golf course."
There's just one problem with the code throwing shade at Barack Obama not fixing problems: it didn't work, and apparently would never work the way the code was laid out, which is a fact that Twitter users pointed out in response to Ingraham.
Ingraham tweeted that the error message was not only intended for GOP.com, but also the web address action.donaldjtrump.com. That particular site contains a page with a survey that prompts visitors to rate the first year of President Donald Trump's administration.
The survey asks four super normal questions from a party in power, including, "Do you believe the Fake News Media will fairly cover President Trump's first year approval rating?"
Yep, super normal.
Anyway, back to the code and its obvious irony: The president, who routinely criticized Obama for golfing, has been at the golf course a lot during his first year in office; over 80 days to be exact. That number comes out to around 25 percent of his days in office, per Business Insider's count.
Now, no one would care about Trump's days golfing (not as much, at least) if it weren't for the fact that he really did make a habit of making it seem like presidents shouldn't golf. The list of tweets from Trump aimed at Obama for golfing is plentiful.
In November 2011, Trump tweeted, "Yesterday @BarackObama actually spent a full day in Washington. He didn't campaign, fund raise or play golf. Shocking."
In October 2014, Trump tweeted, "Can you believe that,with all of the problems and difficulties facing the U.S., President Obama spent the day playing golf.Worse than Carter."
Later that month, Trump tweeted again, "President Obama has a major meeting on the N.Y.C. Ebola outbreak, with people flying in from all over the country, but decided to play golf!"
In May 2016, Trump tweeted, "While our wonderful president was out playing golf all day, the TSA is falling apart, just like our government! Airports a total disaster!"
By now you get the trend: Trump tweeted and tweeted and tweeted. That's probably why the RNC site eventually took down its ironic message, as Ingraham told his followers on Twitter.
"UPDATE: The golf error message has been removed from the Trump and GOP websites," Ingraham wrote. "They also fixed the javascript "=" vs "==" problem. Still not clear when these messages would actually display, since the actual 404 (and presumably 500) page displays a different message."
The WaPo reporter added in another tweet, "That suggests someone at either RNC or the Trump admin is sensitive enough to Trump's golf problem to make this issue go away quickly once people noticed. You have no idea how much I'd love to see the email exchange that led us here."
And so ends a bad joke that was literally over before it began.