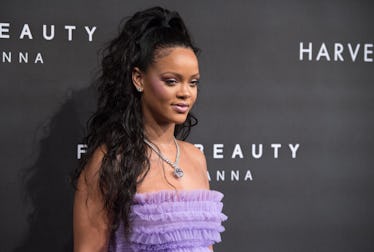 Rihanna's Net Worth Is So High & Here's The One Reason Why
Chris J Ratcliffe/Getty Images Entertainment/Getty Images
Rihanna's status as a music icon is pretty much solidified. The singer consistently breaks records, sells out concert halls, and captivates fans with her beauty and honesty. Given that Rihanna's been on the music scene for well over a decade now, it's natural to wonder how much her name, face, and celebrity are truly worth. She's definitely a pioneer in the industry. But did you also know she's filthy rich? Yup, Rihanna's net worth is so ridiculously high that you'll probably be questioning your life choices once you're done reading this.
So, just what is RiRi's net worth?
According to Celebrity Net Worth, Rihanna is worth a cool $245 million. That's probably an unfathomable number for a lot of people, especially when you consider how young Rihanna is. She's only 30 years old and yet she's managed to create an image, a legacy, and even an empire that will last her a lifetime.
Now, you may be wondering how Rihanna amassed this incredible fortune in such a short amount of time. In all honesty, it's really just a matter of being a shrewd business woman, which Rihanna most definitely is. And it's also because she does pretty much everything!
Whether she's recording music or working on her cosmetics line, Rihanna is incredibly smart about her business ventures, which ensures that she's always raking in the cash. She's also really creative when it comes to her brand.
Rihanna, whose real name is Robyn Rihanna Fenty, got her start in the music industry way back in 2005 with her album Music of the Sun. The album sold just 609,000 copies, but it put her on the map with songs like "Pon de Replay." It eventually hit the top 10 of the Billboard 200.
More importantly, though, the album opened so many doors for the singer, both musically and otherwise. In total, Rihanna has had a total of 14 number one hits. And she's sold over 200 million records and singles, making her one of the best selling artists of all time. So, yes, Rihanna is extremely successful. She's so successful that she reportedly makes $70 million a year, which isn't surprising when you really think about it. Rihanna is literally working her tail off all the time and her album sales and huge fan base are definitely a testament to that.
In addition to making awesome music, Rihanna's got her eyes set on permeating other industries with her brand. Take cosmetics, for example. In September 2017, Rihanna launched her very own cosmetics line called Fenty Beauty.
Within weeks, retailers were selling out of the Fenty Beauty line. And there's a good reason for that: Rihanna's line of cosmetics is inclusive, meaning that she caters to all complexions and skin tones. This was a very smart and important move on Rihanna's part. Women of color have routinely struggled to find cosmetics that are made for them. Rihanna swooped in and filled a huge void in the industry… and now she's reaping the benefits!
As of April 2018, Rihanna is also gearing up to launch her own line of lingerie. She's calling it SavageXFenty Lingerie, which has a very Rihanna-esque ring to it. Don't you think? While fans have only gotten a glimpse of the lingerie line, there's no doubt it's going to be awesome. Everything Rihanna touches seems to turn to gold.
All that said, it's clear why Rihanna's net worth is as high as it is right now. And it's only going to get higher as she branches out and works her Rihanna magic. Basically, Rihanna is way more than just a music artist. She's an incredible performer, a cosmetics mogul, and now a lingerie designer. She's essentially a jack of all trades! Can't wait to see what she does next.