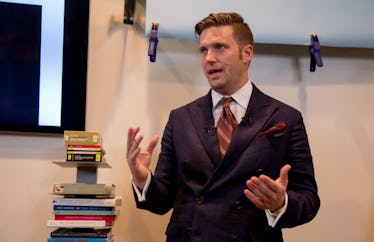 Richard Spencer's University Of Florida Visit Prompts A State Of Emergency From Governor Rick Scott
Tasos Katopodis/Getty Images News/Getty Images
Florida Governor Rick Scott has declared a state of emergency ahead of Richard Spencer's University of Florida visit. Spencer, who helped lead the white supremacist "Unite the Right" rally in Charlottesville, Virginia, in August is scheduled to speak at the university on Thursday, Oct. 19. Gov. Scott declared the state of emergency for Alachua County, the site of the university's Gainesville campus.
On Monday, Scott said in a statement,
We live in a country where everyone has the right to voice their opinion, however, we have zero tolerance for violence and public safety is always our number one priority. I have been in constant contact with Sheriff Darnell who has requested this Executive Order to ensure that county and local law enforcement have every needed resource. This executive order is an additional step to ensure that the University of Florida and the entire community is prepared so everyone can stay safe.
Spencer had originally planned to speak at the university in September, but had those plans denied by the university in the wake of the August events in Charlottesville. In a Q&A posted on the school's website, an explanation details why the university granted Spencer a venue to speak in October after denying an earlier request.
As a state entity, UF must allow the free expression of speech. We cannot prohibit groups or individuals from speaking in our public forums except for limited exceptions, which include safety and security.
Our decision to disallow the September event was based on specific threats and a date that fell soon after the Charlottesville event. Allowing Spencer to speak in October provided additional time to make significant security arrangements.
Spencer's speech at the university was organized by the National Policy Institute, a group for which Spencer serves as president. The group paid the university $10,564 for the facility and security, NPR reports.
According to The Gainesville Sun, Gov. Scott made the decision to declare a state of emergency after being asked by Alachua County Sheriff Sadie Darnell for assistance in handling Spencer's visit. Smith told the Washington Post,
We have looked at what happened in Charlottesville and Berkeley. We're not being alarmist. But we want to be prepared.
Spencer's Past
Both of the events to which Darnell alluded made headline news in August. And in early October, Spencer led a torch-lit march through Charlottesville, Virginia, where a crowd of 40 to 50 marchers repeatedly shouted "You will not replace us." The same chant was used most notably two months earlier, when Spencer, other white nationalist leaders, and hundreds of protesters convened in Charlottesville for the "Unite the Right" rally during a weekend in August. On Friday, Aug. 11, the protestors marched towards a statue of Confederate Civil War Gen. Robert E. Lee, which is soon to be removed.
The next day, Aug. 12, the demonstration turned violent when protestors clashed with counter-protestors who'd shown up to demonstrate the white supremacist groups in Charlottesville. By the end of that Saturday, 32-year-old Heather Heyer died after a car rammed into a group of counter-protestors, an action that injured 19 other people.
At the time, Spencer vowed to return to Charlottesville. He said, per USA Today,
We are going to make Charlottesville the center of the universe. We are going to come back here often. Your head's going to spin how many times we're going to be back down.
Later in August, chaos erupted at an event in Berkley that hadn't been attended by Spencer, but gained a similar amount of attention. On that occasion, black-clad counter-protestors confronted white supremacist demonstrators, resulting in a number of brawls that were captured by news cameras. Joanna Mendelson, senior investigative researcher with the Anti-Defamation League, told the Los Angeles Times.
Today's story should have only been about the voices of tolerance overpowering those marred by bigotry. Instead, any violent response, even if perpetrated by a small number, undermines their entire effort to counter the narrative.
Both of those events, among others, created a concern for violence during Spencer's upcoming speech, Gov. Scott's statement said.
In response to Scott's declaration on Monday, Spencer told the Washington Post,
This worries me. I don't get it. I hope he's doing this with good intentions.
Spencer also put blame on other groups, including Antifa, saying,
It's these antifa groups. They're thugs. Nasty, nasty people.
Protests have already begun at the University of Florida in the lead-up to Spencer's visit.