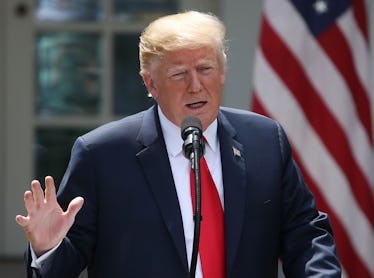 This Politician's Groundbreaking Ad Was Intended To Piss Off Trump, & I'm Cheering
Mark Wilson/Getty Images News/Getty Images
You can't see me, but I am super happy right now. Why? Thanks for asking. I thought we were running out of ways to try and get at President Donald Trump, but a Maryland state senator and candidate for governor found a new way and it's delightful. Richard Madaleno's campaign ad shows him kissing his husband — to piss off Trump — and I'm truly living for it.
On his tirade against the "fake news media" there's one television mainstay that has Trump's heart, and that's Fox and Friends. Because his Fox and Friends fandom is one of two things we can count on from Trump (the other is early morning tweet storms), Madaleno knew he'd be watching. Madaleno is running for governor in Maryland, and decided to run his campaign ad on Thursday June 7 during, you guessed it, Fox and Friends.
Madaleno's ad is called "Take That," and straight away he says he's running to "stand up to Trump."
"Here are a list of things I've done that already infuriate him," says Madaleno. He then takes viewers through a series of accomplishments like "protecting Planned Parenthood from the Republicans in Congress —" Trump is working to defund Planned Parenthood — and supporting public schools instead of Betsy Devos-backed vouchers, which basically gives kids the equivalent of a gift card but to be used for private school. Finally, Madaleno gets to the kicker.
"And what's the number one way I piss off Donald Trump and the republicans?" says Madaleno. Then he leans in, kisses his husband, turns to the camera and says, "take that Trump."
Could you think of a better campaign ad? Just as a regular political ad, it hits on major issues facing the country today: women's issues, gun safety, education, and LGBTQ rights. It's also the first political ad to feature a same-sex kiss, according to the LGBTQ Victory Fund. On top of all that, it also takes a clever stab at Trump and his politics. And airing it during his favorite television program? Icing on the cake.
Trump's administration hasn't been the friendliest towards the LGBTQ community. This ad comes during LGBTQ Pride Month, an event that Trump has refused to acknowledge two years in a row. The Trump administration has also rescinded Obama-era protections for the LGBTQ community: For instance, during President Barack Obama's presidency he extended the definition of sex discrimination at work to include LGBTQ discrimination under Title VII. Obama also told schools that receive federal funding to respect the rights of transgender students, including their right to use the bathroom of the gender they identify with — guidance that the Trump administration has withdrawn.
So it's extra important that this openly gay politician decided to stand up to Trump during a Pride Month — a month that commemorates the Stonewall riots, which are historically seen as the launching of a popular movement for LGBTQ rights.
Now, we already know how great Madaleno is at throwing shade, but he's impressive for some other reasons too. In 2007, he became the first openly gay member of Maryland's general assembly, and if he snags the win in November, Madaleno will become the state's first openly gay governor, according to The Hill.
Sadly, judging by the polls, it doesn't look like Madaleno is likely to win. He's in fourth place with only six percent of the votes, according to The Washington Post. But even if he doesn't win, he did something extremely important. It was a groundbreaking ad with a powerful message, especially to everyone watching during Pride Month — including the president.