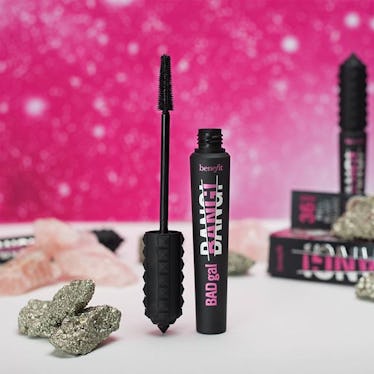 Benefit Just Dropped A New Mascara & It's The Bad Girl's Version Of "They're Real"
@benefitcosmetics Instagram
Regardless of how much loyalty I feel to a brand, I can't purchase a product until I see the reviews. Whether it's fear of being disappointed or wasting money, I prefer to wait patiently for feedback. So when I heard that Benefit was trying to outdo the cult-classic They're Real mascara with a new formula, I decided to wait for reviews of Benefit's BADgal Bang! Mascara. Sometimes the more a product is hyped, the less it actually performs. But friends, let me tell you, the first reviews are indicating this mascara is out of this world.
After over 100 women tried out the BADgal BANG! Volumizing Mascara ($24, Benefit Cosmetics), 90 percent said they saw a dramatic difference in volume, 94 percent said it instantly lifted lashes, and 92 percent said it lengthened lashes. When I saw those stats, my interest was already peeked, but I kept searching. After all, Benefit pretty much reinvented the mascara wheel with by launching the They're Real Mascara ($24, Sephora) for the same price, so the standards are set beyond high.
With a name like "Bad Gal Bang," I was expecting the reviews of the mascara to say that it slayed, provided drama and infused much-needed life into people's lashes. Sure enough, it did! First I ventured to YouTube, so I could actually see the product on customers lashes. I love a good Sephora or Ulta review, but sometimes seeing is believing.
For me, I need to see where my money is dwindling out of my "must have" budget (AKA the person preparing my taxes is so going to judge my makeup buying habit.)
The most helpful review I watched was from YouTuber Lisa Potter-Dixon. Fun fact: she's actually a head makeup artist for Benefit Cosmetics, and has known about the product for a year. She got to witness it in various stages at the company's testing labs.
I love that Potter actually explains and breaks down why this product is so good. The mascara is actually formulated with something called "aero particles". Now I barely made it through my science class, but José Rivera, Benefit Cosmetics' Makeup Master spoke with Bustle writer Sara Tan, for an exclusive interview, and explained exactly how it works.
"[Aero-particle] technology has existed for a while, but has never been used in cosmetics. We were able to actually harness that technology and engineer a powder out of it, which is what's in the formula," explains Rivera.
Potter went on to further explain in her YouTube video, that aero particles are actually the lightest material known to man, noting that's why she experienced mega volume on her lashes sans heft. The mascara provides the volume that mascara lovers are obsessed with, but it won't make your lashes feel clumpy or weighed down.
Additionally, Potter didn't experience any flakiness with the mascara, because it's also formulated with soft and hard waxes, and special polymers. All of these ingredients could double as things found on Mars and I would be none the wiser.
According to Potter, the polymers create a water-resistant, almost top coat-like effect. Whether you forgot to take off your mascara before hot Pilates class, or you're crying over The Notebook (again), the formula means it won't budge. OK seriously, this video is teaching me more than I learned in my science class senior year of college.
Potter also raves about the unique cone-shaped wand. Eyelash wands with cone shapes are universal for all eye shapes, so whether your eyes are almond, round, or anywhere in-between, this wand can work for you. It comes packed with an astonishing 300 bristles.
This is the elite version of mascara bristles. They're cut in half, so one side is flat, and the other side is curved. Again, I was a tad clueless about what this meant, but Potter states that the flat side is perfect because it pushes mascara from the root to the tip. That means you'll get volume evenly throughout the entire lash.
With this mascara, the devil is really in the details with this one. It's packed with pro vitamin B5 which, will help nourish and condition your lashes. Potter put it simply: You're not going to wash your hair without conditioning it right? Well our lashes are hair, so constantly putting drying formulas makes them brittle. I know, my mind is blown too!
Zetus Lepetus, this mascara sounds so major. Thank God I can get a bit of space technology while keeping my feet (or lashes) right here on Earth.