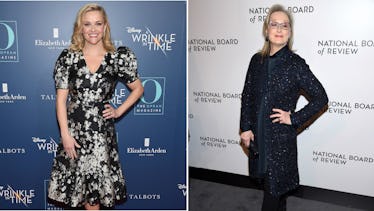 Reese Witherspoons' Reaction To Meryl Streep Joining 'Big Little Lies' Is All Of Us
Dimitrios Kambouris/Getty Images Entertainment/Getty Images
Big Little Lies is coming back for its second season, with filming set to start on Friday, March 16, so yes! It's finally happening, everyone. All of our favorite characters are confirmed to head back to Monterey, and there are many more new characters who will be joining the show as well. Like, you know, MERYL FREAKIN' STREEP. Did you hear that, world? Meryl Streep is going to be a part of Big Little Lies, and when that news got out, I basically lost my sh*t. But clearly I wasn't alone, because I just witnessed Reese Witherspoon's reaction to Meryl Streep joining Big Little Lies, and I'm just going to say that she's just as pumped as the rest of the world is for this addition to the show.
Witherspoon went on Late Night with Seth Meyers to talk about the show's return, and shared her excitement about one new cast member in particular. She said, "So, y'all, we're starting next Friday on Big Little Lies 2, I can't believe it. Not only do we have every cast member coming back, but also Meryl Streep is joining us."
Meyers then asked, "What is that like, the moment where you get Meryl Streep to agree to do your show?" And honestly, I feel like Reese Witherspoon is fan-girling as much as the rest of us over Meryl. She said,
Well, she sent an email to Nicole and I, and it said, 'OK, I read the part and I love it and I'm going to do it.' And I like dropped the phone, like mic drop, but I phone dropped. And then I called Nicole and I was like, 'Is this real life? Is this really happening?' And then I got off the phone with Nicole and I, like, hugged myself gently for a minute and said, 'This is really happening. You're really working with Meryl Streep!'
Can we please just talk about how the iconic, award-winning actress Reese Witherspoon is in disbelief that Meryl Streep would join her cast of other iconic, award-winning actresses?
God, she's amazing.
What's even better is that as soon as she calmed down after learning the news, she said that she called up the BLL writer and half-joking, half-threateningly told him, "You better write me good scenes with Meryl Streep!"
So, how does one even GET someone like Meryl Streep, who has literally dozens of Oscar nominations (and a handful of wins) to be on their television show? Apparently, all you need is a friend of a friend, and, in this case, that friend is Nicole Kidman.
Big Little Lies author Liane Moriarty recounted the story of how exactly they got Meryl Streep to play the role of Mary Louise Wright, the mother of Perry (played by Alexander Skarsgard), to the Australian newspaper The Daily Telegraph for BLL 2:
I was about half way through [writing Season 2] and I was talking to the producers and I said, 'I've got this role of Perry's mother and… not quite believing my own audacity, I'd like Meryl to play this character.' And the producers were laughing at me because they were saying, 'You've become so Hollywood,' as in, picking up the phone and saying, 'Get me Meryl.' They were teasing me… but then they were saying, it's not beyond the realm of possibilities because Nicole and Meryl are friends... Nicole sent me an email saying, 'Ask and you shall receive.'
You hear that, fam? That's why it pays to have friends in high places. Or, you know, to have friends named Nicole Kidman.
So, if you're looking for me, I'll just be sitting here, patiently waiting for Big Little Lies to come back. Because I want more, damnit.
I think it's safe to say we all do.