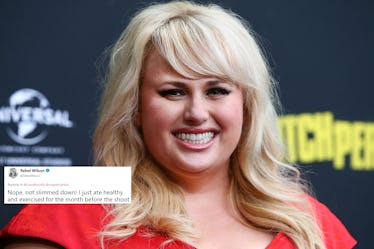 Rebel Wilson Slammed Fans Who Said Her Magazine Cover Was Photoshopped & You Go Girl
Lisa Maree Williams/Getty Images Entertainment/Getty Images
Rebel Wilson is on the new cover of Vogue Australia, and she's totally basking in all the glory that comes with being a cover girl. Unfortunately, some people on social media aren't exactly enthusiastic about how her cover looks and they're suggesting Wilson's entire look was altered in some way. And Wilson just isn't here for it. Actually, Rebel Wilson's response to rumors her magazine cover was photoshopped is quite admirable.
Wilson shared her new Vogue Australia cover on Tuesday, May 22, via her Twitter account. In her tweet, which included the cover itself, the actress and comedian thanked everyone who made the cover happen. She also said that the experience was "amazing":
I never would've thought this element would be added to my life: Vogue Covergirl. This was such an amazing experience, thank you Vogue Australia and to all the designers and stylists who worked on this shoot! June issue @vogueaustralia on sale May 28th x
Almost as soon as Wilson tweeted this out, fans rushed in to say that the magazine changed her appearance significantly. One user wrote that Wilson had been "slimmed down":
They altered the photo. Look at her face and hands. Slimmed down. Why can't they just show her in her natural beauty.😩
But Wilson wasn't having any of it. She responded to the fan rather quickly and cleared up any misunderstandings about her Vogue Australia cover. She even explained that she committed herself to a healthy diet before the shoot:
Nope, not slimmed down! I just ate healthy and exercised for the month before the shoot x but then immediately after ate brownies!
To further emphasize her point, Wilson also shared the final photos from the Vogue Australia shoot, as well as what the raw photos looked like. Here's what she had to say in her tweet:
Oh and just so you can see the raw v's the magazine shot, I took a monitor photo myself on the day of the shoot! So please don't carry on that these shots are heavily photoshopped because they're not!
She's right, though. The photos look exactly the same!
Given all the negative feedback Wilson has gotten about the photos, you really have to give her credit for responding the way she did. It was graceful and respectful and she backed her points up with evidence!
The backlash about Wilson's Vogue Australia cover comes just a month after the actress won a case against Bauer Media, a magazine publisher she accused of defaming her. The publisher was ordered to pay Wilson a whopping $3.6 million for suggesting that she lied about her name, her age, her background, and her childhood in Sydney, Australia.
Clearly, such claims would be hurtful to anyone. And Wilson was set on making sure she cleared her name. Of the incident, Wilson explained her stance on the issue:
A group of women who I didn't know and who had never met me, orchestrated this malicious takedown of me and basically said everything about me and my life was fake … It was just so devastating to have that happen, and I'm proud of myself though for standing up to them because this is a huge media organization owned by German billionaires.
Good for her for setting the record straight! And, really, that situation puts the Vogue Australia one into perspective. Wilson clearly wants to make sure she's represented in the media in a genuine and honest way. Can't blame her for standing her ground! But can we just concentrate on what matters here? Wilson looks absolutely STUNNING on that cover. I mean, she was beautiful already, but, I'm just floored.