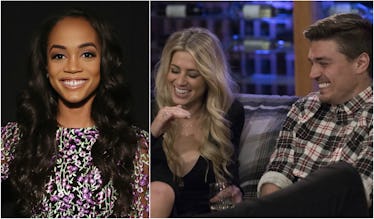 Rachel Lindsay Reveals What She Really Thinks About Dean & Lesley's Breakup
Cindy Ord/Getty Images Entertainment/Getty Images & ABC
Rachel Lindsay might not have seemed thrilled about her Bachelorette ex Dean Unglert cozying up next to Lesley Murphy when she made a guest appearance on Bachelor Winter Games, but now that Dean and Lesley have split, it looks like she's changing her tune. Following last week's news of the Winter Games co-stars' split, the former Bachelorette has shared her thoughts about the couple breaking up. Rachel Lindsay's quotes about Dean and Lesley's breakup are so heartfelt that you'll almost miss Rachel's sweet approach to Dean on The Bachelorette.
Speaking to Bachelor franchise alums Ben Higgins and Ashley Iaconetti on their podcast The Ben and Ashley I. Almost Famous Podcast, Rachel was just as surprised as many fans were about Dean and Lesley's split. The two quickly bonded on the set of Bachelor Winter Games, where they had a relatively drama-free relationship and became one of four couples to get together post-show. Rachel had an early insight into their relationship when she and other franchise leads stopped by Winter Games to judge a kissing contest, but she didn't love Dean and Lesley's approach to the competition. Regardless, Rachel seems just as blindsided as we were, saying on the podcast:
I actually thought they were a really good match for each other. I thought that they had a lot of the same interests — like personalities that meshed really well together — and I thought they were going to work out. I didn't think they were going to be running down the aisle anytime soon but I thought they were going to be boyfriend and girlfriend for a while so I was shocked that it ended so quickly.
I always believed that Rachel wasn't crazy about Dean being with Lesley on Winter Games because of his unsavory treatment toward girls from her Bachelor season on last year's Bachelor in Paradise. Since then, it's clear that Rachel, along with the rest of Bachelor Nation skeptics, warmed up to the unlikely pair, who reportedly broke up because of distance. A source told E! News:
It is very recent, but they have been rocky for a few weeks now. Distance and traveling were a factor. They are both going to continue to be friendly and are on good terms, but their romantic relationship has ended.
Both Dean and Lesley also took to Instagram to explain their individual sides of the decision. Neither of them mentioned the other by name in their statements, but both messages presented a respectful view of their experiences together.
Dean's statement focused on working on himself, which I think we can all agree on, no matter how much he redeemed himself on Winter Games:
I always had this idea that no matter what you did, no matter how you act, as long as you're true to yourself and act in good conscious, your path would lead you to the one person on this planet you're meant to be with. As I've gotten older, I've learned that although everyone DESERVES love, it's not something we're entitled to. Love takes work. Love is compromise. Love is earned.
For Lesley, it was time to reflect on her time away from Bachelor Nation and suddenly finding a relationship when she returned to a franchise show.
I spent 5 years away from Bachelor Nation as I lived abroad and traveled for work. I came back to Winter Games because I've seen this franchise work miracles before. Through The Bachelor and my journey around the world, I have made deep connections, true meaningful intimate relationships with many walks of life. I know it's imperative to find someone who chooses us and acknowledges our many layers, who can be open and vulnerable, and most importantly, who is ready. To meet someone and be met. To be chosen and to choose. To love and to be loved. This is everything.
While Rachel had a positive but realistic view of Dean and Lesley's relationship, she didn't exactly have high hopes for Clare Crawley and Benoit Beauséjour-Savard, who announced the end of their engagement less than a day before Dean and Lesley's breakup went public. On the podcast, Rachel admitted:
I definitely saw [the breakup coming] because I just felt like… You start fantasizing about things and you don't think about how they work in the real world. I never thought Clare and Benoit were going to work.
She may be handing over her Bachelorette title to Becca Kufrin soon, but Rachel still has a knowledgeable eye on franchise news. After hearing her perspective on the Winter Games breakup, I'm also ready to weep over these splits all over again.