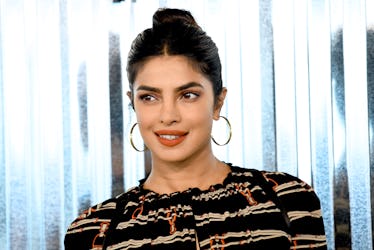 Priyanka Chopra Said The Most Controversial Thing About Getting Engaged To Nick Jonas
Jared Siskin/Getty Images Entertainment/Getty Images
Monogamous relationships, especially the ones taking place in this day and age, tend to move through different levels of exclusivity as time wears on. Typically, it goes a little something like this: you meet, you go on a few dates, you start "liking" each other, you go on a few more dates, you talk about being exclusive, you date "exclusively" without labels, you put the labels on it, you get engaged (if that's what you're into), then you get married (if that's what you're into). But Priyanka Chopra's quote about getting engaged to Nick Jonas shows their exclusivity timeline was anything but typical.
Why? Well, while many monogamous people consider themselves "taken" once they're in a relationship, Chopra, 26, told People that she didn't really consider herself "taken" until Jonas, 26, popped the question.
Her belief system might have been the reasoning behind why 26-year-old Jonas asked for her hand in marriage just two months after they began dating.
Once he finally put a ring on it, Chopra was officially ready to devote herself fully to him. "This is the first time I was comfortable with being with someone who is such an incredible partner, so it just felt natural," Chopra told People at the Bumble India launch on Monday. "And plus there was a ring on it! I always said that when there's a ring on it I'll talk about it because you're single until you're married."
Yep, that's right, people. She literally said, "You're single until you're married." Honestly, from a paperwork-signing standpoint, she's not wrong. Even if you have a boyfriend, you still wind up checking off the "single" box at the dentist's office.
But, of course, there are also some flaws to her point of view. This is to say people who have chosen to simply remain together in a partnership without a traditional marriage, aren't "single" and are very much in a valid relationship.
That being said, everyone's entitled to their own point of view. If Chopra has chosen to live her life guided by the principle that she won't view herself as "taken" until she's engaged, that's fine! But, if that school of thought doesn't work for you, that's cool, too.
Now that Chopra does see herself as officially taken, she's finally ready to speak openly about her love life.
"I've never been public about my relationships. But that was a decision I took when I was very young," Chopra explained to People. "Especially in entertainment because women have such public lives, we always end up being reduced to a plus one or 'blahblahblah's' girlfriend. And I wanted to give myself enough time where I'm able to stand on my own two feet and have my identity as well."
So, what was it about Jonas that made Chopra decide to put her single life behind her once and for all? It's the way he respects her.
"Truly this is what worked for me, he has to be someone who respects you," Chopra told People. "Then everything is so easy because you give each other credit for your intelligence, you give each other the benefit of the doubt because you trust each other. There's so much that comes out of that. I think don't settle for less than that."
While I don't think we all necessarily need to live by Chopra's "you're single until you're engaged" motto, I do think that we should all try to follow her advice and never settle for someone who doesn't truly respect your intelligence. You rule! Fall in love with someone who understands how wonderful you are.
Check out the "Best of Elite Daily" stream in the Bustle App for more stories just like this!