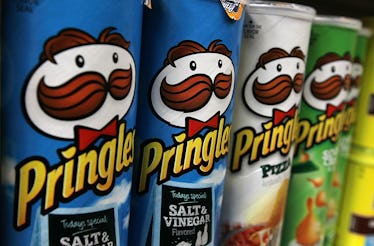 Pringles Has An Entire Thanksgiving Worth Of Flavors, So Why Bother With Dinner
Justin Sullivan/Getty Images News/Getty Images
As the Thanksgiving holiday is upon is, not everyone is going to spend it with their families — which means the traditional Thanksgiving dinner isn't a guarantee. You could probably find a full turkey /mashed potato /cranberry sauce combo in the frozen food aisle should you find yourself without a home cooked meal, but if even that sounds like too much work, there's now another option out there for you. Pringles' Thanksgiving Dinner chips are now a thing, and I can't tell if this is the best idea ever or a terrible mistake.
This is for real. The flavors of an entire Thanksgiving dinner packed into potato chips, served in a box that says "no cooking required!" Inside the box you'll find eight limited edition chip flavors that are all parts of your Thanksgiving dinner — turkey, mashed potatoes, stuffing, cranberry sauce, creamed corn, green bean casserole, mac & cheese and pumpkin pie. Yes, dessert is included.
Sadly, the interesting chip flavors are only available on a "pilot taste test" basis, with extremely limited availability. So if you're dying to try the new flavors you may be out of luck. But if you just have to know what they taste like, Food & Wine magazine recently reviewed the flavors.
Apparently, a couple of the "savory" flavors actually aren't bad. The turkey and mashed potato flavors are said to work well, and an unexpected standout is the green bean casserole flavor, per Food & Wine. But others aren't as great — namely creamed corn. (Ew.) Cranberry sauce flavored chips don't exactly sound appealing either.
I'm a massive fan of potato chips, but I don't think that this is really necessary. Maybe it's because I'm a diehard plain potato chip champion and think that chips should stay in their purest form: plain.
Thanksgiving is still a week away, but the unveiling of this new chip flavor box is already a somewhat polarizing issue for Twitter users.
People are either all about it...
... or don't really know what to make of it.
There's also the idea of creating new flavor combos with the chips, much like Pringles did in October with their "flavor stacking" pop-up shop. Dubbed "The Pringle Stack Shack," it opened for three days in New York and tested out other interesting flavors, such as Kickin' Chicken Taco, French Onion Dip, Screamin' Dill Pickle, and Loud Fiery Chili Lime.
The pop-up encouraged customers to "stack" flavors together to create entirely new flavors, per Forbes. One example of a Pringles "stack" was the Pico De Gallo Stack (Extra Hot, Jalapeño, and Loud Fiery Chili Lime).
Pringles is encouraging that same "stacking" technique with this Thanksgiving dinner box. One of the combos that you can create with these eight flavors is "The Leftover Sandwich" (Turkey, Stuffing, Mashed Potatoes) — which actually doesn't sound half bad. The Pico De Gallo stack mentioned above doesn't sound bad either, but I think that's because the flavors in both combo stacks actually work well on a chip. But I don't see how a "sweet" flavor on potato chips is a good idea, ever.
But serious props must be given to Pringles for their innovative spirit. Although I don't see myself purchasing one of these Thanksgiving dinner chip boxes, I'd definitely be down to try a flavor or two if someone put a sample of the chips in front of me.
But I mean seriously, do we need this much chip variety in our lives? Isn't the point of buying potato chips to eat exactly what you're purchasing — potato chips? When will the madness stop, people?? I'm happy with my plain "basic" potato chips, and don't see myself venturing off into uncharted chip flavor territory anytime soon.