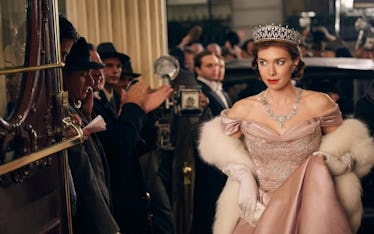 The Actress Who Plays Princess Margaret On 'The Crown' Looks Totally Different IRL
Netflix
The Netflix drama The Crown prides itself on its actors' physical resemblances to the real members of the British royal family. While I can't wait to see a new crop of actors transform into royalty for Season 3, I'm convinced that nothing will beat the twinning action of the original cast compared to their real life counterparts. A particularly fascinating transformation is that of Princess Margaret from The Crown IRL, aka actress Vanessa Kirby.
If you saw Kirby in anything prior to The Crown, it was probably in the 2013 film About Time, where she played a sarcastic blonde who actually was pretty similar to droll Princess Margaret. While she may be drawn to the same kind of personality in acting roles, Kirby looks quite different from the Princess Margaret she portrayed from 17 to 34 years old in the show's first two seasons.
The British actress only made an Instagram account in June 2016, but the page has since become a shrine for her love of Margaret. After watching Season 2 and Margaret's fierce handling of her romance with Tony Armstrong-Jones, I can totally relate.
Sharing behind-the-scenes photos from The Crown and glamour shots of the actual princess, Kirby has posted so much of herself as Margaret that you may be surprised at seeing her IRL.
While Kirby maintains her blonde locks IRL, she would slip on a brown wig styled in the fashion of the mid-20th century to play Margaret. A wig is often crucial to an actor's thought process of becoming their character, and for Kirby, the hair was definitely the true essence of Margaret.
Kirby's admiration of Princess Margaret, who died in 2002, has been no secret. Speaking to Vogue, she shared just how important the role of hair and makeup is to capturing Margaret. Using the example of Margaret's duller wardrobe after her sister Elizabeth denies her the right to marry her first love Peter Townsend, Kirby said:
When Margaret is in her power, she's absolutely owning the room. She's a force of nature, whereas Elizabeth would rather slip in. So when she's not herself, we thought about the conflict of not wanting to be seen, as well as desperately wanting to be seen.
Similarly, she said to ELLE of Margaret's fashion:
...the costumes, particularly for Margaret, were so significant for her. We designed it with her inner space in mind because we thought of it as a person — she was so particular and so iconic in fashion that everything was really considered choices...it's so different from her sister, and it was so amazing to see her break away from that traditional royal look.
Known for her bitter humor later in life, Margaret's harsh persona developed as a result of her earlier, more vivacious experiences, according to Kirby:
All the things that I heard when I first got the part and people that started talking to me about Princess Margaret, was, 'Oh my God, she was so difficult, she was such a nightmare, she was such a dragon, she was quite cutting and mean and very icy.' I felt really privileged to play her in her young life because people aren't born like that. I don't think she was like that at 17 when we meet her in episode one of the first season, so how does somebody become that?
Kirby, who Helena Bonham-Carter will replace as Margaret in Seasons 3 and 4, has continued her quest of sharing Margaret's relatable side even though the role is no longer hers. Just look at that vintage side-eye game.
I mean, I'm ready to join the Margaret fan club after seeing this:
With her commemorative Princess Margaret plate, Kirby would definitely be president of the royal's fan club.
She was so dedicated to achieving Margaret's actual look that Kirby's hairdresser even got a shout-out when the second season dropped on Netflix.
Although Bonham-Carter is 51 years old, more than a decade older than Margaret at the rumored 1971 start of Season 3, I'm confident that The Crown team will continue producing scary similarities between the actress and the IRL figure. After all, they recreated Margaret's wedding day look flawlessly:
Although she seems to still have her blonde hair color, I definitely wouldn't be surprised if Kirby dyes her hair brown sometime soon. Fingers crossed that Bonham-Carter's Margaret makes her proud.