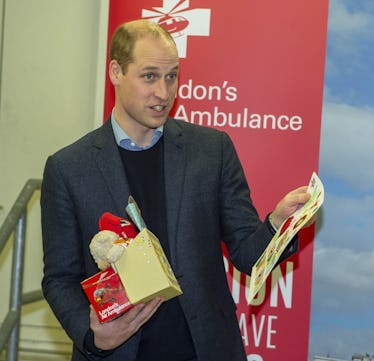 Will's Body Language While Apart From Kate On Her Birthday Is Super... Interesting
WPA Pool/Getty Images Entertainment/Getty Images
It's a special day for the royal family! The Duchess of Cambridge turns 37 on Wednesday, Jan. 9. While it's likely she'll have a celebration with her husband in the evening, the Duke of Cambridge had a professional engagement that kept him away from his wife for the bulk of the day. Prince William's body language while apart from Kate Middleton on her birthday today makes it seem as though he's concerned about being apart from her — though not for the reason you might expect.
William is celebrating the 30th anniversary of London's Air Ambulance at a tea party held at the Royal London Hospital in Whitechapel. This, according to reports from People, means Kate will "likely spend most of the day with 8-month-old Prince Louis" (her other children will also be busy at school). As a reminder, it's not unusual for couples to spend time apart from each other, even on birthdays, anniversaries, and holidays. Work happens, even when you're royal.
So, is Will missing Kate while away from her on her special day? Well, sort of. We asked Traci Brown, body language expert and author of Persuasion Point: Body Language and Speech for Influence, to look at pictures of him at the event today and her responses are... interesting.