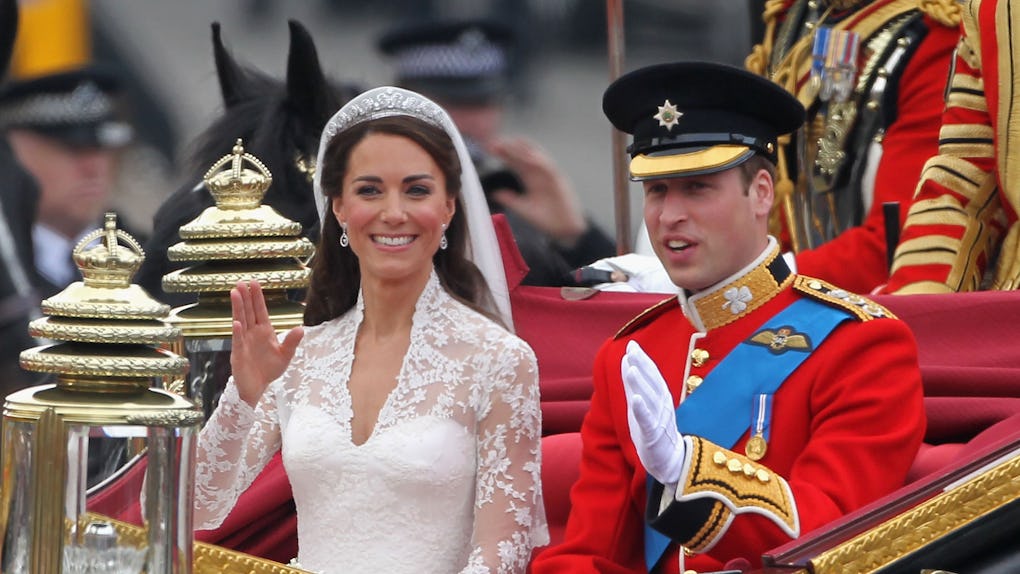 Sean Gallup/Getty Images Entertainment/Getty Images
Prince William & Kate Middleton Broke The Royal Wedding Guest Tradition, According To Reports
We all know his brother wasn't afraid to break traditions at his wedding last year, but it turns out Prince William and Kate broke the royal wedding guest tradition when they tied the knot back in 2011. Queen Elizabeth was reportedly down to break some rules when Prince William and Kate Middleton were about to tie the knot. What rule, specifically, did she loosen up on? Well, it turns out that royal weddings typically have really strict guest lists. But when her grandson seemed stressed about who to invite, Queen Elizabeth just told him to chill out and invite whoever he wants.
OK, she probably didn't tell him to "chill out" in those exact words. But, according to Marcia Woody, the author of the 2013 book Kate: A Biography, she reportedly did relax the strict guest list rules a bit for the nuptials.
"William was presented with a list of hundreds of people who he should invite and felt his heart sink," Moody wrote, according to Express. "The occasion would 100 percent formal, with no room for their personal guest list or special touches. He spoke to the Queen and she told him to tear up the list, invite his friends and start from there."
Kate and Will definitely took Queen Elizabeth's advice to heart. Their wedding was a star-studded affair with celebrity guests ranging from Sir Elton John to Victoria and David Beckham.
That being said, a report from The Guardian notes that the wedding kept to tradition to a certain extent by still including its fair share of political figures from Salman, Crown Prince of Bahrain to Letizia, Queen of Spain.
Will later told Katie Couric in a 2013 interview that he only wished that his late mom, Princess Diana, was there to witness his wedding. "It was the one time since she's died where I've thought to myself it would be fantastic if she was here," he told Couric. "And just how sad really, for her more than anything, not being able to see it."
"I think she would have loved the day and I think, hopefully, she'd be very proud of us both for the day," he continued. "I'm just very sad that she's never going to get a chance to meet Kate."
It's possible that Will and Kate's personal touches on their wedding guest list set a precedent for Harry and Meghan's wedding guest list seven years later. When the younger royal duo tied the knot in 2018, the star-studded list of friends in attendance included Priyanka Chopra, Oprah Winfrey, Cara Delevingne, and George and Amal Clooney. Harry and Meghan also broke tradition in other ways, ranging from the inclusion of some American songs (rather than the exclusively British music that's typically played at royal weddings) to Meghan walking down the aisle with Prince Charles instead of her own father to Harry wearing a wedding ring during the ceremony (when royal grooms typically do not). It's very cool to see royal traditions evolve to suit the changing times.