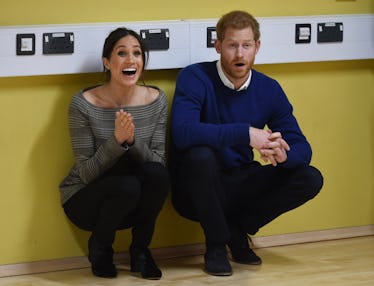 Prince Harry & Meghan Markle Received A Wedding Cake Made Of Cheese & It's Everything
WPA Pool/Getty Images Entertainment/Getty Images
Prince Harry and Meghan Markle are pretty much living out my ultimate dream as royals. Who wouldn't want to be a member of the royal family? In the words of Rachel Green from Friends when she's talking about her jealousy of Princess Caroline, "Do I have my own castle?" However, I didn't know what true envy was until I saw the gift Harry and Meghan received during their trip to Wales — a wedding cake made of cheese. I think I need to sit down. Prince Harry and Meghan Markle's wedding cake made of cheese is incredible and will definitely have you running for a box of Ritz crackers.
Prince Harry and Meghan Markle made their first royal visit to Cardiff, the capital of Wales. Upon arrival, the two were greeted with a five-tiered cake make out of cheese. According to Haper's Bazaar, the layers were made up of "Beechwood, a smoked cheddar; Red Storm, a vintage Red Leicester; Black Bomber, an extra mature cheddar; and Green Thunder, a cheddar with garlic and herbs."
The glorious gift was made entirely out of Welsh cheeses, courtesy of the Snowdonia Cheese Company based in Rhyl, North Wales. Each tier was wrapped in different color wax with a decorative burlap ribbon and heart cut-out. The whole tower stood on a slice of wood (perhaps it could double as a cheese board?). Honestly, if you're going to have a wedding cake made of cheese, this is the classiest approach you can go.
Simon Mercer, director of Snowdonia Cheese Company, explained that the tower of cheese was put together as a congratulations gift to the couple. He said,
We made it for them. It's to celebrate their wedding and to offer our congratulations to them. We do get asked to make wedding cakes occasionally. We have been asked in the past to do it.
Whoever these people are that order specialty wedding cheese cakes, I want to meet you. Prince Harry and Markle obviously had a fabulous time sampling cheese. I mean, who wouldn't? Markle looked adorable in a long-sleeve, grey, almost-off-the shoulder top and black pants while Harry kept it cozy in a blue sweater with a white collared shirt underneath.
One day, Markle is on Suits, the next day she's eating cheese in Wales with Prince Harry. WHAT IS LIFE?
When it comes to their actual wedding cake, it's rumored that the two are leaning towards banana. I'm glad they are choosing a relatively unique flavor and letting their individual taste shine. Also, banana cake is delicious AF.
A source told The Telegraph that the fruit-flavored dessert "will be the first royal wedding cake made from bananas." Isn't royalty fun? Everything feels like such a big reveal.
Even if the flowers and decor are all Meghan, the cake is definitely Harry's. His former royal chef, Darren McGrady, told Hello! Magazine that Harry has always loved "anything with bananas." This includes banana flan and banana ice cream. Is banana ice cream a royal thing or is it common in the U.K.? It sounds really good and I would like some, please.
The banana cake actually fits in perfectly with tradition. Usually, the top tier of a couple's wedding cake is frozen and saved to be served at the christening of their first child. Apparently, fruit freezes best.
Surprisingly, this is where Prince William and Kate Middleton decided to veer off from what's expected. Reportedly, in addition to their traditional eight-tiered cake, William and Kate also had a cake made out of chocolate biscuits. I am OK with this.
Whether it's cheese or bananas, I'm happy to talk about any cake Prince Harry and Meghan Markle are around.
Check out the entire Gen Why series and other videos on Facebook and the Bustle app across Apple TV, Roku, and Amazon Fire TV.