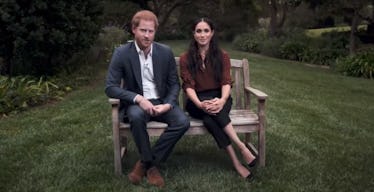 Harry & Meghan's TIME 100 Body Language Wasn't The Most Romantic
There's a time and a place for packing on PDA, but this wasn't it. Prince Harry and Meghan Markle's body language during their TIME 100 appearance on ABC was appropriately serious. While sharing a message about the importance of voting during the unveiling of TIME's list of the world's 100 most influential people — an honor they received in 2018 — they sat side by side outdoors while their dog ran in the grass behind them.
"He doesn't look especially happy but, then again, it's a more serious subject they're talking about," says Traci Brown, body language expert and author of Persuasion Point: Body Language and Speech for Influence, adding, "Brits are known for their stiff upper lip." Despite his serious demeanor, there's one small signal that he's feeling strong affection toward Meghan: "His legs are open in her direction, so that's where his focus is."
As for Meghan, Brown notes that she looks "much more comfortable and pleasant" than her husband does when it comes to being on camera. "Her legs aren't crossed towards him," she says. "Her knees are his direction. Usually, we see legs crossed towards whoever is in charge. So, I'm guessing she is in [charge of] this venture."
Fitting with the serious tone of the video, the Duke and Duchess of Sussex kept things strictly professional. "This isn't one of their more romantic or connected moments," says Brown. "There's space between them and they don't have any PDA going on. Maybe that's by design. Her hands are clasped around her knees, which is putting up a bit of a barrier between her and the camera. They're getting the job done. But I think either the stress of their lives lately or just the gravity of what they're saying is getting in the way of a deeper connection during this taping."
In the video, Meghan made a strong plea to the American people to vote in the coming 2020 election:
We're just six weeks out from election day and today is National Voter Registration Day. Every four years we are told the same thing: That this is the most important election of our lifetime, but this one is. When we vote, our values are put into action and our voices are heard. Your voice is a reminder that you matter because you do and you deserve to be heard.
Harry also chimed in, saying:
This election, I'm not going to be able to vote in the U.S. But many of you may not know that I haven't been able to vote in the U.K my entire life. As we approach this November, it's vital that we reject hate speech, misinformation, and online negativity.
Their statement made headlines, as some saw it as breaking from standard protocol that bars members of the royal family from commenting on politics. In response to the controversial comments, Buckingham Palace denied comment, semi-shadily saying, "The Duke is not a working member of the Royal Family and any comments he makes are made in a personal capacity."
Across the pond, President Trump responded to the video by saying he's "not a fan" of Meghan's and that he wishes Harry "a lot of luck, because he's going to need it." Well, this is where the duke's stiff upper lip might come in handy!