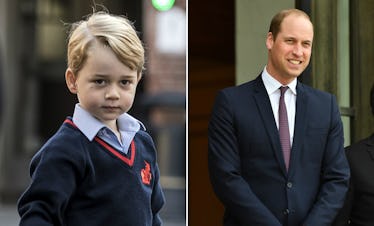 Prince George's Nickname For Prince William Is Literally The Cutest Thing You Could Imagine
WPA Pool/Pascal Le Segretain/Getty Images Entertainment/Getty Images
Is there anything cuter than the Duke and Duchess of Cambridge and their little growing family? Prince William and Kate Middleton have the cutest brood of children — between 5-year-old Prince George, 3-year-old Princess Charlotte, and tiny, 7-month-old Prince Louis, it's almost impossible for things to get even sweeter. Only they can, because apparently, Prince George's nickname for Prince William, aka, his dad, is adorable on so many different levels.
While making an appearance to pay their respects to the helicopter crash victims in Leicester, United Kingdom, Prince William and Kate Middleton reportedly spoke to one fan and revealed the nickname their son Prince George has for Prince William.
"Kate said that William was playing football with the children last night," the fan recalled, adding, "and one of them said, I think it was George, 'Are you playing football tomorrow, Pops?'"
Pops. POPS! Be still my heart.
For some reason, using the term "Pops" is cuter than any other fatherly term of endearment. Maybe because it's not used often. Maybe because I'm picturing Prince George saying it with an adorable little British accent. Who knows?
Another fan reportedly asked the royal couple how their children were doing, and Duchess Kate reportedly responded, saying, "They are great, thank you."
As if we couldn't love Prince George any more, we recently found out that he has taken up a new hobby — and I can guarantee that it's the most brilliant thing you'd ever imagine. So, what hobby is Prince George learning? I'll give you a hint:
Yes, fam! Prince George is taking up dancing lessons, and if that's not the purest statement you've ever heard, then please leave.
Prince William and Kate Middleton met up with Teen Heroes from the BBC Radio 1's Teen Awards at Kensington Palace and, according to Harper's Bazaar, the couple spoke with the young adults who were being recognized for their charity work.
In one video clip, William and Kate were speaking with a finalist named Junior Frood, who helps to campaign against bullying, who also revealed that he's a street dancer.
Prince William asked Frood, "Can you spin on your head? That's always what I ask people who do street dancing. I can't do it, I can't even dance properly anyway."
Kate sarcastically responded to her husband saying, "You don't break dance?!"
Prince William responded, "No break dancing. If I were to break dance, I'd literally break myself!"
I don't know what these two are talking about. I mean, look at them go!
OK, fine, this technically isn't break dancing, but they've both got rhythm!
Prince William then told Frood, "George is doing dancing as well, he loves it," then added an incredibly thoughtful sentiment, saying, "My mother always used to dance, she loved dancing."
BRB, crying.
Prince William also told Frood, "If it's something you love, you do what you love. Don't let anyone else tell you otherwise. Keep at it."
Here's hoping he allows Prince George to do the same, and that one day, we'll see him become the first street-dancing royal.