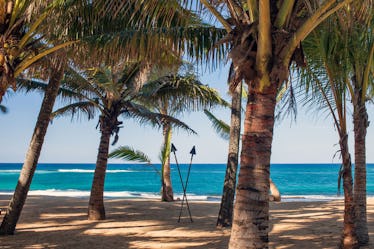 You Can Get 50% Off Flights & Hotels With Priceline's Black Friday Deal
Stocksy/Neal Pritchard
Instead of setting my alarm at the crack of dawn to wait in long lines for discounted electronics and home goods, I'll be at home on Friday, Nov. 23 browsing the tropical getaways that can be booked at a discount come Black Friday. Cool new gadgets are great and all, but they won't help you get through the winter blues quite like a beach vacation will. I was excited to see that Priceline's 2018 Black Friday sale includes up to 50 percent additional savings, as well as sweepstakes and serious discounts each week until Jan. 14, 2019. The best part? You can book everything from the comfort of your home, no lines required.
Starting on Black Friday, aka D-Day for retail, Priceline will begin by sending out Express Deal coupons starting at 5 a.m. ET throughout the weekend. to email subscribers, according to press materials. These coupons will include up to 50 percent additional savings on hotels, as well as flights and rental cars. There's just one catch: You have to be a subscriber to get in on the savings. Luckily, it's super easy to become a subscriber just by signing up at Priceline.com, which you'll probably want to do anyways to stay in the know about all the savings you can take advantage of in the coming weeks.
Come Cyber Monday, one thousand subscribers around the world will get coupon codes gifting them 99 percent off their hotel stay, per press materials. Even if you're not a part of the lucky group, you will still get additional Express Deal coupons with "significant discounts," per press materials.
Even after Black Friday weekend is over, you can still continue to score incredible travel deals, and, if you're lucky, win trips to tropical resorts and perks like $500 gift cards. Starting from Nov. 19-26, travelers can earn cash back when booking vacation packages to Mexico, Hawaii, Jamaica, the Dominican Republic, and Puerto Rico. You can also enter to chase those cold weather doldrums away by signing up to win an all-inclusive stay at the Live Aqua Hotels & Resorts in Cancun. The stay comes with round-trip flights for you and your bae/bestie, so all you have to worry about is having fun and relaxing.
From Nov. 26 through Dec. 3, additional discounts on hotels in Miami, New York, Orlando, and Los Angeles can be had, while Express Deal hotels in Hawaii, San Diego, Puerto Rico, Phoenix, Palm Springs, Cancun, Punta Vallarta, and Riviera Maya will be on sale from Dec. 3 through 10. During that period, you can enter to win a trip to South America (flights are included on LATAM Airlines), as well as an all-inclusive stay (including round trip flights) at the Dreams Resort & Spa in Mexico.
You'll want to start looking into Spring Break hot spots from Dec. 10 through 17, because Express Deal hotels in Orlando, Tampa, Austin, Los Angeles, Fort Lauderdale, and Las Vegas will be further reduced. During this period, you can also enter to win a round trip flight to the Florida Keys and a stay at Hawks Cay Resort. Meanwhile, Express Deal hotels in Orlando, Denver, Seattle, New York, Boston, San Francisco and Park City, Utah will be on sale from Dec. 17 through 24, which is also when you can try your luck at winning a $500 gift card.
To ring in the week of Christmas, you can plan for a warm weather cruise with pre-paid gratuities on Carnival cruises as well as deals on hotels in port cities like Miami, Tampa, Port Canaveral, New Orleans, Charleston, and San Juan. From Dec. 24 through 31, you can also enter to win a $500 Express Deal coupon, so there's also the chance that you can enjoy that hotel stay free.
The week of Dec. 31 through Jan. 7 is for adventure-seekers looking to celebrate the new year with a bang. Savings on Express Deal hotels in Las Vegas, Nashville, New Orleans, Dallas, Houston, Palm Springs, Santa Barbara, and Phoenix can be had, as well as a potential round trip Allegiant flight to Las Vegas and a stay at the MGM Resort. Last but not least, travelers looking to book cruises during the week of Jan. 7 through Jan. 14 can take advantage of double onboard credit and zero deposits on Carnival Cruise trips. During this last week, you can also enter to win a hotel stay in Mexico as well as AeroMexico airline tickets.
That's a lot of potential discounts, which means that there's bound to be an option or two that'll inspire your wanderlust without breaking the bank. Plus, I don't know about you, but eight weeks of discounts and chances to win free trips and airfare is definitely making me feel thankful for the season of savings.