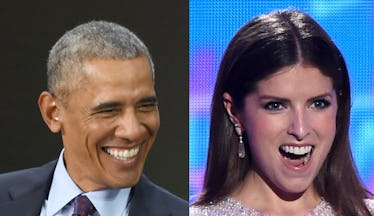 Anna Kendrick's Reported Convo With Obama During Their First Meeting Was Bold AF
Jamie McCarthy/Getty Images Entertainment/Getty Images/Theo Wargo/Getty Images Entertainment/Getty Images
If you need further proof that President Obama has the best sense of humor, head on over to Anna Kendrick's Instagram. While most people would be totally starstruck if they had the opportunity to meet the former POTUS, the actress decided to take a decidedly bold approach to her first conversation with him. President Obama's reaction to Anna Kendrick's surprising comment shows he doesn't take himself too seriously.
Back in 2012 when President Obama was still leading the country, he apparently had a pretty hilarious run-in with Anna Kendrick — who you might know and love from films like Pitch Perfect and Up In The Air — thanks to her ballsy comment, per Cosmopolitan. While making an appearance on The Late Show with Steven Colbert on Friday, Sept. 14 to promote her new thriller, A Simple Favor, Kendrick decided to reveal her R-rated comment and clear the air on that whole encounter. You know, because it's a pretty plucky move to call the president of the United States an a**hole. Just saying.
Here's how it all apparently went down, per Kendrick's description. As you know, President Obama was on the campaign trail for re-election in 2012, and he stopped in Los Angeles for an intimate gathering. According to Kendrick, she was a guest at said event where the politician talked about issues affecting the country, including the economy, to a group of 30 people. Spotting Kendrick, the president decided to call out the actress's 2009 film, Up In The Air, which touches on the recession's impact on jobs and livelihoods.
"Actually, Anna was in one of my favorite movies, Up In The Air, which talked about the economy and the recession," she recalled him saying.
Later, after the speech, Kendrick decided to go meet the man himself and shake his hand, at which time he teased her, "I hope I didn't embarrass you earlier?"
That's when she decided to drop an A-bomb, telling him, "Yeah, you're such an a**hole." OMG, Anna!
President Obama's totally priceless reaction?
Per an Instagram photo that Kendrick posted on Jan. 18, 2013 of the meeting, President Obama can be seen losing it and doubling over in laughter after her reported comment. OK, Obama seems seriously tickled by Kendrick's colorful language.
"Last year. The coolest three seconds of my life. (What can I say? I'm hilarious) #FlashBackFriday," she captioned the shot.
It turns out that the banter wasn't quite over, because when the 44th prez asked her if he was correct in believing she was from Maine, Kendrick said "Yes, and actually I was the first person here." Obama then asked, "Oh, are people from Maine really punctual?" Keeping in theme with her sarcastic and witty banter of the night, Kendrick replied, "You didn't know that? You're the President…" Seriously, when is Anna's comedy special hitting Netflix? She totally has that whole deadpan thing down pat.
While I personally wouldn't have been ballsy enough to get in on this repartee, Kendrick's comments show that President Obama can take it as well as he can dish it (and if you're as funny as he is, he'll apparently also double over in laughter). IMO, the #TBT memory is just another reason why, according to Twitter, the former president is basically America's ex-boyfriend who many can't stop missing and want back in their lives in 2018. Keep doing you, Mr. Obama, and don't ever change.