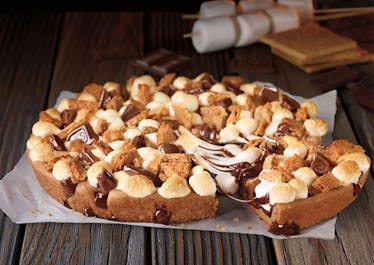 Pizza Hut Is Selling A Giant S'mores Cookie For The Summer Again & I Need It
Pizza is one of the most diverse (and delicious) foods out there. From traditional savory toppings like pepperoni and cheese, to barbecue chicken pizza and Hawaiian pizza, you can really top the pies with whatever your heart desires. That's why the return of Pizza Hut's Hershey Toasted S'mores Cookie is such a game changer. Forget your average garnishes, because this dessert pizza is covered in graham crackers, chocolate, and ooey-gooey marshmallows to create a total explosion of flavors that will sweeten your tastebuds — and your summer. This dessert isn't here to stay forever though, so order up before this must-have summer delicacy passes you by.
If it's too hot for a bonfire where you live, that's OK, because Pizza Hut is bringing the sit-by-the-fire-and-roast-marshmallows experience to you with its mouthwatering Hershey Toasted S'mores Cookie. The summertime sweet is a giant, soft Hershey's Chocolate Chip Cookie topped with toasted mini marshmallows, chunks of Hershey's Milk Chocolate Bar, and graham cracker pieces. Are you drooling yet? This confectionary campfire classic can be yours for the very affordable price of $6.99.
Slice it up and share with friends, or pick the whole thing up and sink your teeth into it, because there are no rules for how to eat this bad body. Pizza Hut's Hershey Toasted S'mores Cookie is only available for a limited time, so act fast or you may just have to wait until next year to indulge in this chocolate-marshmallow pizza goodness.
Chances are you've had a traditional cookie cake before (probably chocolate chip or some variation of a sugar cookie). I'm sure it was delicious, but the s'mores cookie pizza from Pizza Hut takes dessert to a whole new level. Just check out those toasted golden marshmallows cradling semi-melted pieces of Hershey's chocolate.
Pizza Hut, which has more than 16,000 restaurants in over 100 countries, first introduced us to the Hershey Toasted S'mores Cookie in 2016. Clearly, this pie made a real impact on pizza-goers, and that's why the fast casual pizza chain has brought it back for another year. I'm not mad about it.
If you're hosting a Memorial Day party, forget trying to whip up a fancy spread of food. You can skip the ingredients for s'mores, too, because you really can have it all this summer (thanks to Pizza Hut). Order a few regular pizza pies for you and your friends, and, while you're at it, add in a s'mores dessert pizza (or two) in your cart. Because all good meals are followed by a bite of sweet.
Pizza Hut, which got its start in 1958, offers several other good-looking desserts in addition to the Hershey Toasted S'mores Cookie, such as the Ultimate Hershey's Chocolate Chip Cookie for $5.99; the Hershey's Triple Chocolate Brownie for $6.49; cinnamon sticks for $4.39; and six handheld fried apple pies for $3.99.
You can place your next order using Pizza Hut's app that is available for download on iOS and Android devices. Once you're all set up, you will even be able to track your delivery order right from your phone. Say goodbye to hunger pains, because now there is no more guessing as to when in the delivery window your order might show up.
Oh, and one more tip. Make sure you sign up for the Pizza Hut Rewards Program. You'll earn points on every order you place. Once you've accumulated enough points, Pizza Hut will reward you with free pizza. You're welcome.
Of course, you can still place your order online, as well as call or visit a nearby location. You should do this sooner rather than later, because the Hershey Toasted S'mores Cookie is only available for a limited time. Wouldn't it be a shame if you went all summer long with out sampling this sweetness?