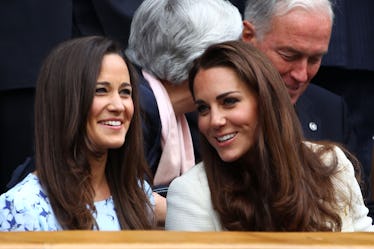 Pippa Middleton Visited Kate & The New Royal Baby, So The Sisterly Love Is Real
Clive Brunskill/Getty Images Sport/Getty Images
As you've probably heard by now, a new royal baby has graced the world with his presence! Prince William and Kate Middleton welcomed the little guy on Monday, April 23, and visitors from the Royal family are flocking to get a glimpse of him. One such visitor was Pippa Middleton, Duchess Kate's younger sister. While she's not exactly part of the Royal family, she is family nonetheless. So, what went down when Pippa Middleton visited Kate Middleton at Kensington Palace? Oh, you know, the usual Royal family stuff.
Pippa arrived on Tuesday, April 24 to show her sister some love and to finally meet her brand new nephew. The baby, who doesn't officially have a name yet, is just a day old. This isn't the only time this year that the Middletons will be welcoming a new baby into the family. Pippa is reportedly expecting her first child with husband James Matthews. Elite Daily reached out to Pippa's team for comment regarding the pregnancy news, but did not hear back at the time of this publication.
As with all things concerning the Royal family, cameras captured Pippa's arrival at Kensington Palace. You know what else they captured? Her awesome outfit. Pippa donned a pink turtleneck and matching pink overcoat to meet her nephew. Hm, is that a sign that she's hoping to have a girl? Could be.
News of Pippa's pregnancy made its rounds on Saturday, April 21, after she reportedly told friends that she was expecting. It looks like everything is going smoothly and as planned. What an exciting time for the Middleton sisters! Couldn't be happier for them!
While the world waits for more news of Pippa's pregnancy, it's time for Kate and the new baby to shine. The newborn is the third child for Prince William and Duchess Kate. The couple has two other children, a four-year-old son named George and a two-year-old daughter named Charlotte.
Pippa is reportedly one of the first family members to visit with the new baby. Prince Charles is expected to visit the newborn in the coming days, as are Prince Harry and future aunt Meghan Markle.
The family couldn't be happier about the arrival of a new prince. Upon the birth, Prince Charles released a rather humorous statement on behalf of himself and his wife Camilla, Duchess of Cornwall:
We are both so pleased at the news. It is a great joy to have another grandchild, the only trouble is I don't know how I am going to keep up with them.
Hey, at least the royals have a keen sense of humor! And they're probably just as excited for Pippa as they are for Kate right now.
With the arrival of the new baby and so many experienced parents in her extended family, Pippa has lots of opportunities to learn what parenthood is all about. I'm sure Kate will be right by her side showing her the ropes. Plus, Kate is in contact with all the best maternity designers, so Pippa will probably look fabulous during pregnancy just like her big sis!
Prince William and Kate's new baby boy is now fifth in line to the throne. He is preceded by his grandfather Prince Charles, father Prince William, older brother Prince George, and older sister Princess Charlotte. While his name has yet to be announced, odds are in favor of him being christened with a family name such as Arthur, James, or Alexander. For bookmakers in the UK, Arthur is a clear favorite followed closely by James.
Whichever name the Royal family eventually chooses for him is sure to be a great one. And as an aunt and future mom herself, Pippa definitely has her hands full with three little tykes stealing her heart!