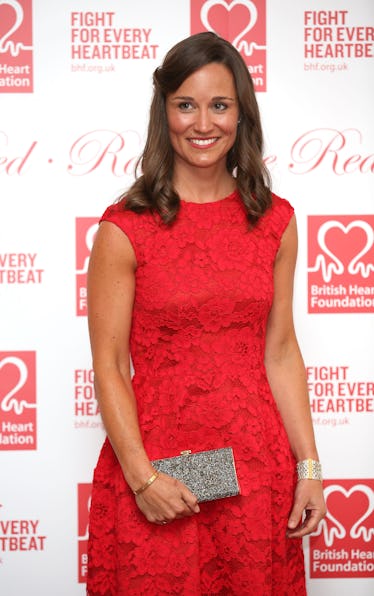 Pippa Middleton Reportedly Gave Birth To A Boy, So Let The Royal Baby Celebration Begin
Tim P. Whitby/Getty Images Entertainment/Getty Images
It seems like it was just yesterday that Pippa Middleton confirmed her pregnancy. But that was actually way back in June and now the little baby she's been waiting for is finally here! Pippa Middleton gave birth on Oct. 15 to a baby boy, according to reports. This is the first child for Middleton and her husband James Matthews, who she married in 2017. Elite Daily reached out to the palace for confirmation regarding the report, but did not hear back by the time of publication.
The birth of the baby was announced by the Daily Mail's royal correspondent Rebecca English, who tweeted the news, writing, "James and Pippa Matthews (Middleton) have had a baby boy. He was born Monday 15th October at 1.58pm, weighing 8lb and 9oz. Everyone is delighted and Mother and baby are doing well."
She and Matthews welcomed their child at Lindo Wing at St Mary's Hospital in Paddington, West London where her big sister gave birth to her three royal kids. The $7,500 a night maternity hospital provides exclusive clients like Middleton with the kind of privacy and luxury they need to feel absolutely comfortable. So, her baby boy was definitely welcomed in style.
Middleton's pregnancy seemingly passed with relative ease, with the new mom even commenting that she didn't experience much morning sickness in the early stages the way her sister did.
"I was lucky to pass the 12-week scan without suffering from morning sickness," she wrote in a column for Waitrose Magazine in June 2018. "That meant I was able to carry on as normal."
Luckily for Middleton, the rest of her pregnancy went smoothly. And that was thanks to her healthy lifestyle, which she modified to accommodate the pregnancy.
"When I learned the happy news that I was pregnant, I realized I needed to adjust my four to five-day-a-week [fitness] routine," Middleton wrote. "I've noticed my body change, but through exercise I feel it's being strengthened. I'm fanatical about sport and have looked at loads of books and websites on exercise during pregnancy, but have been disappointed by the limited technical information what you can and can't do."
Although Middleton wasn't thrilled about the fitness options available to her throughout her pregnancy, it seems that whatever she was doing really worked out for her, which is wonderful. With any luck, the whole birthing process was just as complication-free for her.
Although Middleton is not quite part of the royal family, royal enthusiasts were ecstatic about the new addition. Almost immediately, fans were flocking to social media to congratulate Middleton and Matthews, as well as Prince William and Duchess Kate on the birth.
As for whether the royal family will be visiting with the new baby — well, that remains to be seen. At the very least, William and Kate will be on hand to welcome the baby into the family, though a visit from the new baby's royal aunty and uncle has yet to occur as far as we know. But according to Rebecca English, they are thrilled about their new nephew.
In any case, it's a wonderful time to be Pippa Middleton. She's finally the mom she always wanted to be. I'm sure she and her husband couldn't be happier!