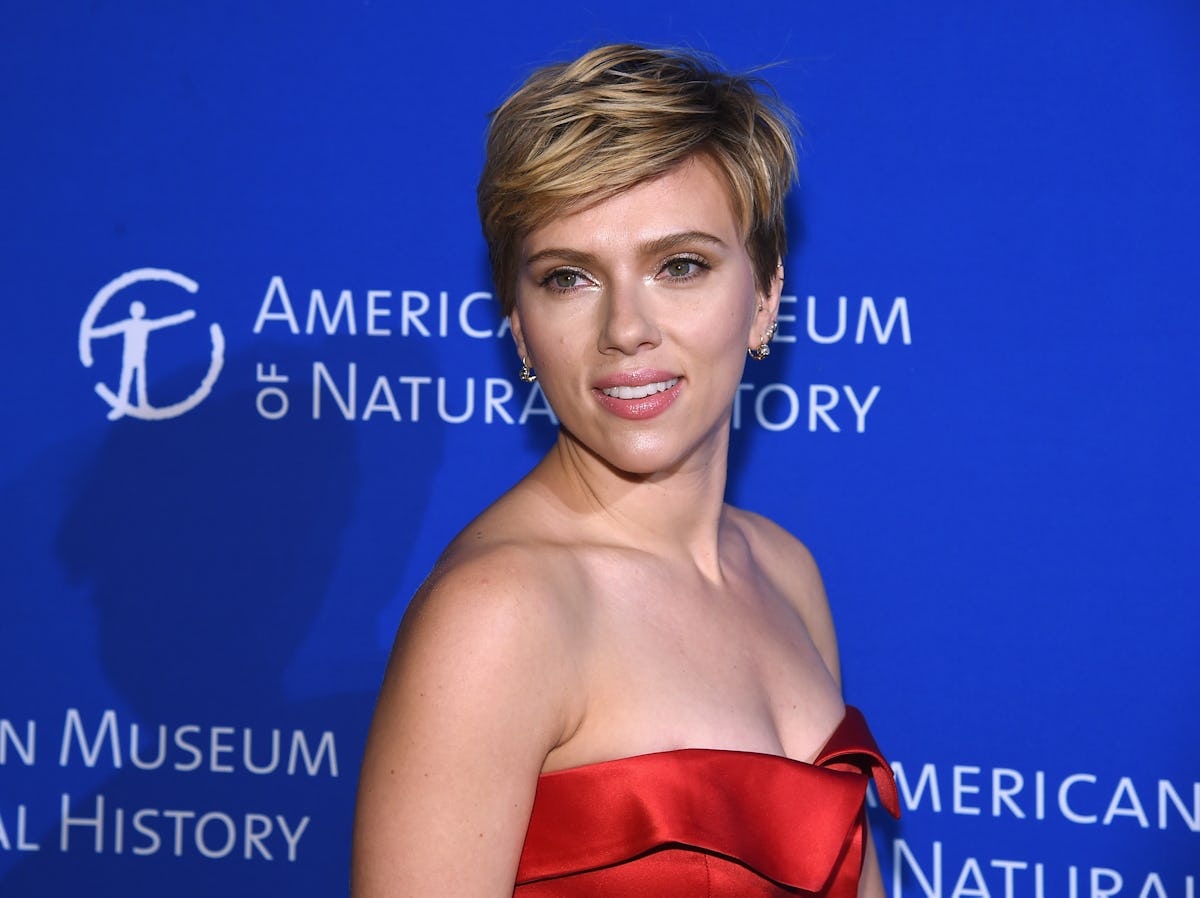 Scarlett Johansson Stepped Out With Her BF For The First Time & The Pics Are Adorable
Jamie McCarthy/Getty Images Entertainment/Getty Images
Love is in the air! Maybe not for me or for you, but who really cares about us? I'm talking about the gorgeously demure Scarlett Johansson and her man, Colin Jost. The two have been supposedly dating since May, but have been super low-key about being seen in public together. But times, they are a-changing, because they've finally stepped out as an official couple, and the photos of Scarlett Johansson and Colin Jost's first public appearance will make you believe in the magic of love again.
For those of you who are like, "Wait, who is that guy?," let me give you a little schooling: he's an actor, comedian, and screenwriter, and uses his talents for a little known television series called Saturday Night Live. Have you heard of it? So, yeah, pretty sure he's not only cute, but talented as hell, so bravo Scarlett on finding yourself a gem (or vice versa, because hello, have you seen Johansson as Black Widow?).
Though the two were thought to have started dating months ago, it wasn't until they were spotted kissing at a Saturday Night Live afterparty that people started pegging them as a couple. Gone are the days where you can just kiss good-looking strangers and people think nothing more of it. Makes you miss the good old days, doesn't it?
But the two still kept things pretty quiet for a few months, until Jost attended the Emmy Awards in September and had no date on his arm. Where was Scarlett? Did they break up? Were they never really together to begin with? Or was she simply unable to attend because she was just busy kicking ass?
We didn't have any need to fret, because while he confirmed that he didn't have a date for the evening, he did basically confirm that they were together, talking about his dear ScarJo to Entertainment Tonight:
She's wonderful. She's working, so otherwise, she'd be here.
So I guess she really was unable to attend because she was busy kicking ass.
When asked if she was "the one for him," he replied:
She's pretty cool … it's hard to have a lot of complaints, she's pretty awesome. The first time she hosted was the first year I was a writer on the show ... So, we've kind of known each other since then … she's the best.
The fact that he's so casual about dating Scarlett freaking Johansson is beyond me. I bet he's one of those people who plays it cool, but inside he's an absolute mess:
He was then asked "whether he was a pretty happy guy":
I'm very happy. I feel very lucky.
Yes, sir. You have one of the most beautiful women in the planet probably on your speed-dial (is that still a thing?), so the word 'lucky' is a great place to start.
So that brings us to present day, where the two made their very first appearance together as a couple at the American Museum of Natural History Gala in New York City, because what says 'love' more than archeological wonders and uncovered historical remnants?
Though they walked the red carpet separately (respect to all the independent men and women out there!), they did join up together inside and posed for photos.
And honestly, the two make a ridiculously cute pair:
Some people took to social media after the word got out, and it's hard to tell if they were confused because they didn't know that the two were dating, or straight-up wondering why Scarlett Johansson was dating someone after her recent divorce from Romain Dauriac:
To all the people judging Scarlett, I say back off and bow down, because this woman can do whatever she damn pleases. Let her live!
She looks genuinely happy with Jost, and I think that's all we should want for our girl. ScarJo, you do you, girl.