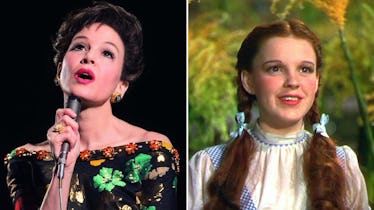 Renée Zellweger Literally Transformed Into Judy Garland For The BBC Biopic & WOAH
Pathe/BBC Films/Metro-Goldwyn-Mayer
Are you sitting down? Brace yourself, because Renée Zellweger is about to blow your mind with her complete transformation into showbiz icon Judy Garland. The Bridget Jones star is currently shooting a BBC biopic about the Hollywood legend titled Judy, and on Monday, the first photos of Renée Zellweger as Judy Garland revealed that producers definitely picked the right woman for the job. Seriously, the resemblance is so striking that many fans initially believed that the set photos of Zellweger were just old photos of Garland.
Judy takes place in 1968, the year before Garland's death at age 47. According to Entertainment Weekly, the official synopsis for the film reads:
Winter 1968 and showbiz legend Judy Garland arrives in Swinging London to perform in a sell-out run at The Talk of the Town. It is 30 years since she shot to global stardom in The Wizard of Oz, but if her voice has weakened, its dramatic intensity has only grown. As she prepares for the show, battles with management, charms musicians, and reminisces with friends and adoring fans, her wit and warmth shine through. Even her dreams of romance seem undimmed as she embarks on a courtship with Mickey Deans, her soon-to-be fifth husband. And yet Judy is fragile. After working for 45 of her 47 years, she is exhausted; haunted by memories of a childhood lost to Hollywood; gripped by a desire to be back home with her kids. Will she have the strength to go on?
Clearly, Zellweger has the looks to take on Garland in the biopic, but she also has the vocal and acting chops to depict the star at such a pivotal moment in her life. In 2002, Zellweger starred as Roxie Hart in the film adaptation of the musical Chicago, for which she received widespread acclaim and a Best Actress Academy Award nomination (she ultimately lost to Nicole Kidman in The Hours). Zellweger's vocal talents will serve her well in Judy, as the film will feature many of Garland's most beloved songs, including "Over the Rainbow" and "The Man That Got Away."
Immediately after BBC shared the first look at Zellweger's Garland, fans erupted with shock that she so expertly nailed the icon's look.
Zellweger isn't the only high profile star joining the Judy biopic. American Horror Story's Finn Wittrock will play Mickey Deans, Garland's fifth husband, and Jessie Buckley, star of the upcoming psychological thriller Beast, will play Rosalyn Wilder, the production assistant who helped Garland during her final concerts in London. In addition, fans should look out for actors from a few of their favorite movies and shows to make an appearance: Michael Gambon (the second Dumbledore in Harry Potter), Rufus Sewell (the ruthless SS officer in The Man In The High Castle), and Bella Ramsey (Lyanna Mormont in Game of Thrones) will also be featured in the biopic.
While there's no set release date for this sure to be amazing biopic, Deadline reports that the first footage of the film will screen at the Cannes Film Festival in May. Depending on whether or not Judy acquires an international buyer (Pathé is distributing the film in the UK, France and Switzerland but is looking to partner with someone in larger markets) — and I'm betting it will — it will likely hit theaters in the U.S. around Thanksgiving. This film has Oscars bait written all over it, so it's no surprise that BBC is aiming for a prime holiday season launch.
Hopefully, BBC will continue releasing photos throughout production and give us a sneak peek into the cast's transformations. After all, the best part of a biopic is seeing how similar the actors look to the real people, right?