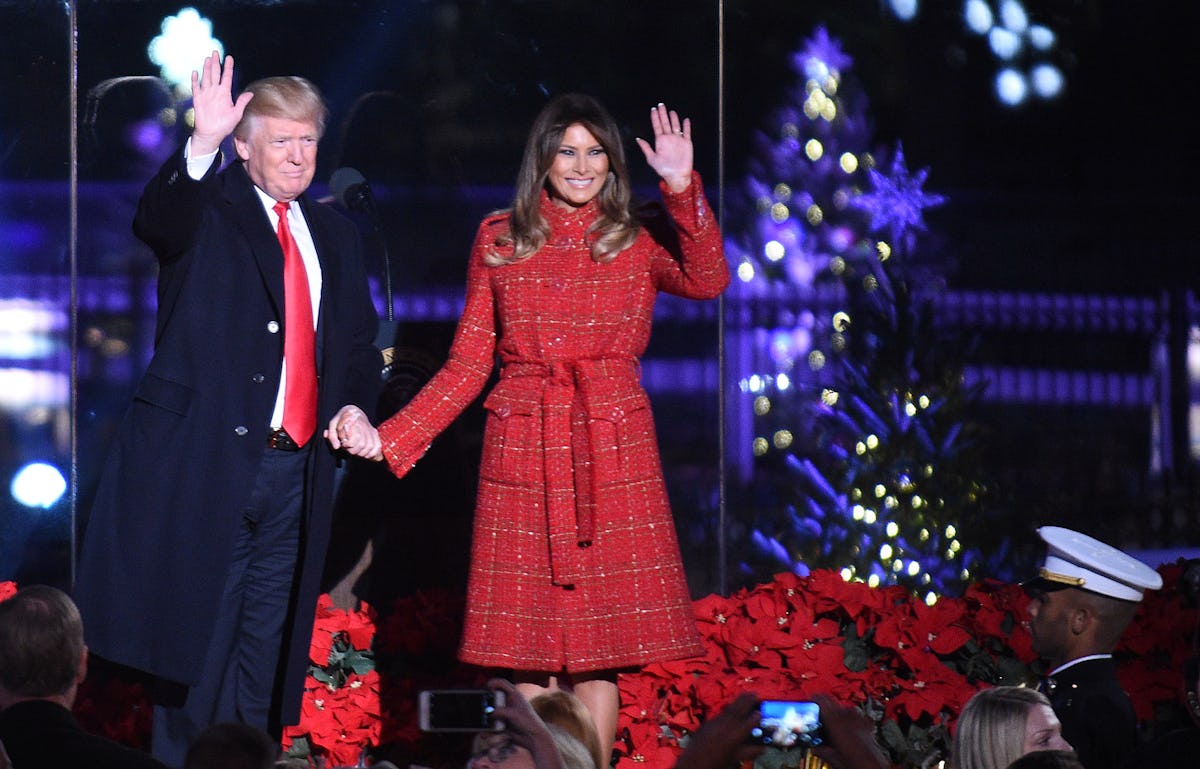 Melania Trump Took A Trip To Whataburger & The Photos Are So, So Relatable
Astrid Riecken/Getty Images News/Getty Images
If you know anything about President Donald Trump's habit of eating fast food, you've probably wondered whether First Lady Melania Trump advises against it. Well, it doesn't look likely. New photos of Melania Trump at Whatburger pretty much proves the first lady doesn't mind a little fast food once in a while.
Melania Trump made the trip with Second Lady Karen Pence, according to The Hill. Both were visiting Texas where they were meeting victims of Hurricane Harvey. During a stop in Corpus Christi, they paid a visit to Texas staple Whataburger, and the scene was captured by a member of the first lady's staff.
Stephanie Grisham, the first lady's director of communications, tweeted about the visit and said, "On our way out of town, @FLOTUS [Melania Trump] & @SecondLady [Karen Pence] decided to stop in to @Whataburger for some lunch! The American chain opened its 1st restaurant in Corpus Christi, TX in 1950!"
Joining Trump and Pence on the trip was Cecilia Abbott, the first lady of Texas. Her husband, Gov. Greg Abbott, also tweeted about women's fast food stop (because people from Texas obviously never miss an opportunity shoutout Whataburger).
"Looks like @FLOTUS is Texas savvy," Abbott said on Twitter. "She & Karen Pence dined at @Whataburger today with my wife the First Lady of Texas. They are here for ongoing help for #HurricaneHarvey."
Pictures of Melania Trump and Karen Pence at Whataburger were shared on Twitter by Grisham and others.
When she wasn't making a fast food run, Melania Trump was meeting Texas natives who were affected by Hurricane Harvey, the Category 4 storm that battered the gulf coast region in August.
"We are here to lend our support to those who were impacted by Hurricane Harvey," First Lady Trump said. "My husband's administration has worked with Governor Abbott to ensure resources are made available to help your community recover from the storm."
Melania Trump and Karen Pence met with first responders and people whose homes were torn apart by Harvey. Among those people was the Zamorano family, who live in Aransas County, where more than 80 percent of structures were damaged by the storm, according to USA Today.
"I want to thank Mario and Rosemary Zamorano and your wonderful children for allowing us to tour what was once your family home," First Lady Trump said. "I am so impressed by your positive attitudes and resilient spirit, and look forward to the progress you will make as you rebuild your home and make new memories."
By visiting Whataburger, Melania Trump took a page right out of the president's handbook: visiting a fast food restaurant while touring around the country.
President Trump's love of fast food is, of course, well-documented, mostly because he doesn't mind talking about it publicly.
"That fish delight, sometimes, right? The Big Macs are great. The Quarter Pounder. It's great stuff," Trump told CNN's Anderson Cooper during a February 2016 televised town hall special. "I think all of those of those places — Burger King, McDonald's — I can live with them. The other night I had Kentucky Fried Chicken, not the worst thing in the world."
While Trump was campaigning to be president, a photo of him eating McDonald's or KFC here and there was pretty much commonplace. You can even read about how Trump enjoys $22 meals at McDonald's. Again, it's well-documented.
Melania Trump now has her own fast-food-on-the-trail moment with her visit to Whataburger. The problem with this is obvious, though, right? There are still no pictures of the Trumps eating a Shake Shack burger, like real New York City coastal elites.